Uncategorized
Take full force to fight against IUU fishing and remove "yellow card" warning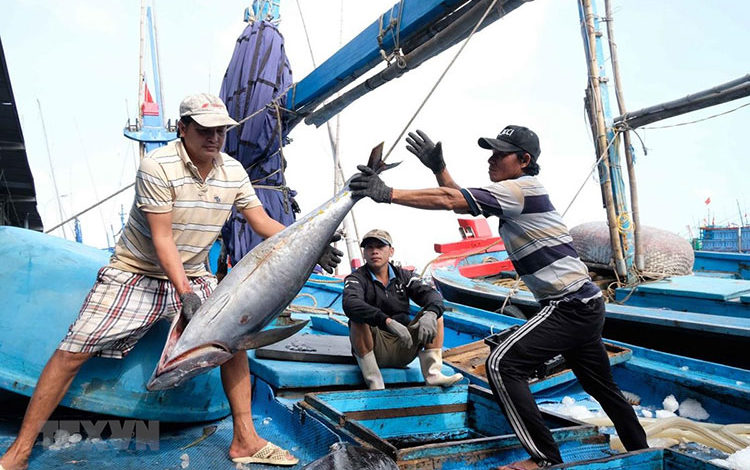 Deputy Prime Minister Trần Lưu Quang signed Decision no.81/QĐ-TTg to issue the "Action plan to fight against IUU fishing and prepare to work with EC's Inspectors for the fourth time"
The plan aims to synchronously and effectively deploy legal regulations related to fisheries, improve shortcomings upon EC's recommendations related to IUU fishing, and remove the "yellow card" warning in 2023.
So as to obtain this target, the plan involves missions assigned to each Ministry, sector, and local authority from now to May 2023; and as such they have to review and list all local fishing vessels, complete the registration of fishing vessels, grant seafood exploitation licenses, and install Vessel Monitoring System (VMS) as regulated.
All fishing vessels docking in and out of ports must be checked and controlled as regulated. The VMS must be assured to work all day long from departure until arrival so that all vessels working in the ocean can be supervised twenty-four seven.
A scheme must be established so that localities can work together to control all local fishing vessels working in other provinces and fishing vessels from other provinces docking in. A policy must be issued to support vessel owners to install and run the VMS. Local Fisheries Surveillance units must be promptly found upon the 2017 Fisheries Law.
Traceability must be confirmed and certified upon instructions by the Ministry of Agriculture and Rural Development to make sure that 100% of the seafood cargoes going to the EU and other demanding markets are traceable.
Spots, where fishing vessels docking in to unload seafood, must be reviewed, supervised so that 100% of the unloaded seafood can be traceable. All vessels in at least 15m length must dock in regulated ports. 100% of the imported wild-caught seafood must satisfy the Agreement on Port State Measures. A solution must be adopted to tightly control seafood products going into Vietnam by containers.
The plan involves deterring and eliminating illegal fishing in foreign waters; investigate and handle all vessels arrested by foreign authorities, handle and punish all vessels trespassing foreign waters and announce on public media.
Activities related to international cooperation in fisheries, prevention of IUU fishing, and seafood exploitation should be conducted.
VFM