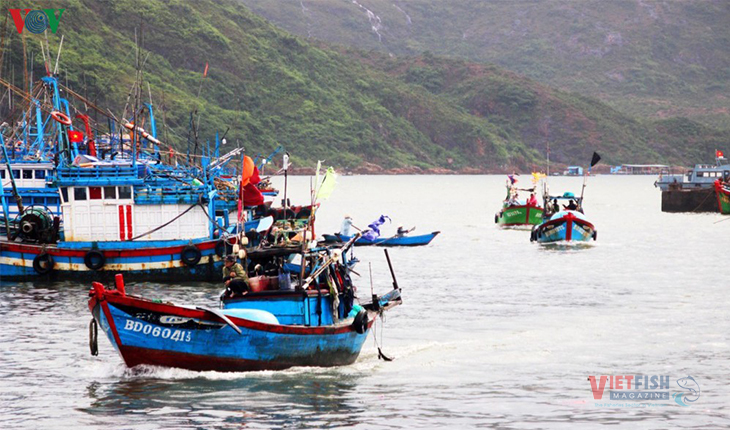 Located in the Northern Gulf with abundant marine resources, Cô Tô has been encouraging fisheries to develop responsible fisheries and enhance product quality. 
Cô Tô harvests around 6,000 tons of seafood per year, 90% of which are wild caught and the rest is farmed. According to Head of the Office of Natural Resources – Environment and Rural of the district, Hà Mạnh Hùng, Cô Tô's development direction of responsible fisheries has shown clearly in aquaculture and exploitation methods and process, as well as investments by local farmers recently.
Most of the fishermen in Cô Tô, who used to exploit coastal areas with small boats, are going to the middle shore and high sea with larger vessels. Exploitation practices leaving negative environmental impacts have been replaced with more sustainable methods. Cô Tô's fishermen are investing into new aquaculture models, experimenting with new species, applying modern technologies in farming algae, white leg shrimps, abalone, pearl, etc so as to satisfy the consumption trend of the market.
As for the seafood processing sector, tens of facilities have shifted from manufacturing raw materials to producing value added products. Specifically, there are 40 facilities producing instant jellyfish instead of processing jellyfish materials as before. Thousands of workers apply for the job every year, with over 300,000 tanks of jellyfish being produced, bringing in more than VND 40 billion revenue. Thus, Cô Tô has become the largest jellyfish processing center of the province.
Cô Tô's fishermen have raised awareness of doing business and seized opportunities of developing tourism. Lots of fishermen have shifted to provide tourism services or associated seafood exploitation and aquaculture with tourism activities. Specifically, households related to seafood aquaculture and exploitation are processing and distributing seafood products, some households open restaurants and hotels to serve travelers during the breeding season of fish and shrimps or peak summer holidays. In 2021, Cô Tô's residents earned as much as 100 million dong each, and fishermen earned a further 10-15%.
According to Vũ Văn Hiển, Vice Chairman of Cô Tô People's Committee, together with the development of economic sectors and tourism in the district, the fisheries will continue to prove itself as a leading industry and a strong supporter to tourism. Either marvelous landscapes or fresh seafood are attracting travelers to this beautiful island.
VFM