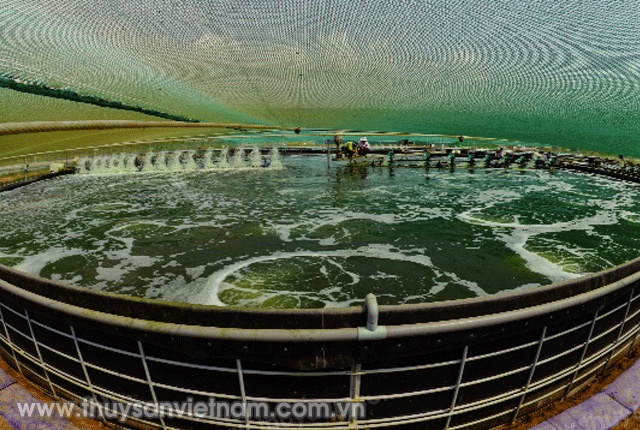 Not only does shrimp cultivation in inland round tanks help control water quality better, but also reduce a great amount of production cost. This practice is being deployed by Việt Nam Uni-President Co., Ltd in partnership with its customers in shrimp farming areas nationwide.
Shrimp farming in Indiana round tanks is recognized to bring effectiveness, safety, sustainability as compared to traditional growing tanks and will become a trend of economic integration. The practice helps reduce negative environmental concerns and disease outbreak in farming areas, facilitate sustainable and effective production, manage feed actively, decrease risks due to diseases, and increase survival rate of shrimps, successful rate and 2-3 crops per year.
Farmers can take in higher profit from this practice as initial investment cost is lower than the traditional liner tanks as fewer workers are hired, the power used to operate the fan system at tanks decreases by 50% (once 12-15 million dong on power, it costs only 8 million dong on two tanks of 1,000 m2.
Besides, this practice does not disturb the soil and can be implemented at any time of the year, especially each tank is equipped with an automatic survey system to control environmental factors and water quality. It's up to each household's condition to switch to this practice for better environmental management, low investment cost and favorable technical process of cultivation. This practice is being encouraged by authorities in the face of unstable prices of shrimp material.
Antibiotics and chemical substances are not used in inland round tanks which bring negative environmental concerns, create a safe environment for shrimp to grow up, reduce diseases, and shorten a shrimp's growth cycle by 2.5-3.5 months. Moreover, this practice uses automatic machines and rotation settling tank systems without discharging waste water outside to the environment, preventing pollution.
However, farmers must strictly follow the treatment process of water resources using settling tank, treatment tank, ready tank, and growing tank. Only SPF broodstocks that are nursed 20-30 days to weigh up the same size are selected.
Uni-President worked with its customers to successfully implement the super-intensive inland round tank for shrimp farming with the most remarkable tank made by farmer Trần Hoàng Vũ in Bến Tre.
Vũ shared that the practice is an entirely-closed system with all systems such as water treatment and nursery being calculated at suitable proportion to enable the management and keep the environment clean. He uses high quality feed and bioproducts made by Uni-President following international standards. Shrimps in this kind of tank become organic, safe and traceable shrimp materials, paving a sustainable direction of development for Vietnam's shrimp sector. In the future, Uni-President Việt Nam will spread this practice to provinces nationwide.
VFM