Aquaculture
To farm white leg shrimps in round shape steel frame tank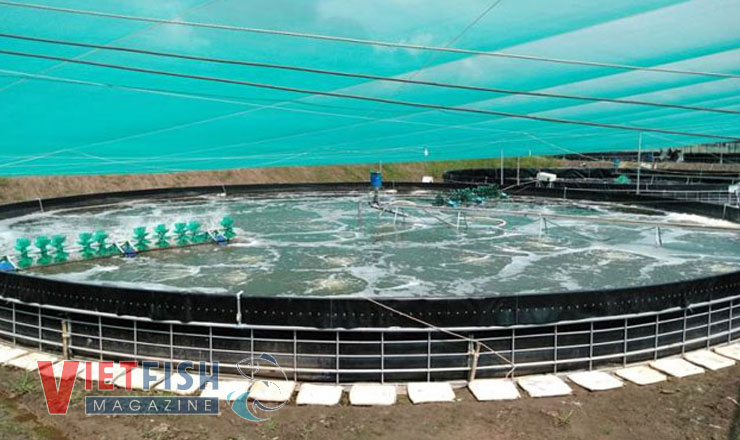 This is the practice that farmer Trần Văn Triệu in Cây Còng hamlet of Đôn Xuân commune, Duyên Hải, Trà Vinh is proceeding and initially getting some benefits.
Triệu says that after getting information from agriculture extension officers, Gardening group, media publications, and touring in Bạc Liêu, he decided to invest 1.5 billion dong into making 2.5ha round shape steel frame tanks of super-intensive white leg shrimps.
He had total four rearing tanks with 500m3each and two nursery tanks with 120m3 each. Those tanks are round-shaped, framed with steel, padded with plastic liner, and surrounded by oxygen system and machines. There are two 2.000m2 available tanks, one 100m2 catch basin and 20m3waste treatment biogas tank, and 2ha slurry-storage tank where tilapia are stocked for the purpose of treating the waste and improve water quality.
The farming and harvesting are carried out in three tanks, with stocking density being 300 pcs/m2. The average survival rate in the last two crops (115-120 each) is recorded with survival rate 83 – 100%, yield of 53-59 tons/ha, average weight 26,5 – 28 pcs/kg, profit 500 million dong/crop.
Farming super-intensive white leg shrimp in steel frame round tank with plastic liner has some advantages in taking care of and managing shrimps, controlling environmental problems, stabilizing environmental parameters (with using probiotics to reduce environment pollution and improve shrimp quality), quickly installing and removing tanks, and saving tank square. This practice helps stock large-sized shrimps, reduce risks, and shorten farming cycle. It also easy to collect and take use of waste and shrimp shells to create necessary materials for the biogas tank to make fuel and minimize environmental pollution problem.
In the future, he plans to invest into two more farming tanks (more biogas tank) and apply advanced technology in pond management with "Automobile warming and supervision system of water quality in shrimp farming". This is a new technology to help shrimp farmers have more options to apply in their production so that they can raise their productivity, quality, economic efficiency, protect environment, and develop shrimp farming in a sustainable and industrial direction.
VFM