Processor
Grobest Vietnam takes the pioneer role to launch groshield, a new functional immunity-enhancing daily feed product for successful shrimp crops in the new year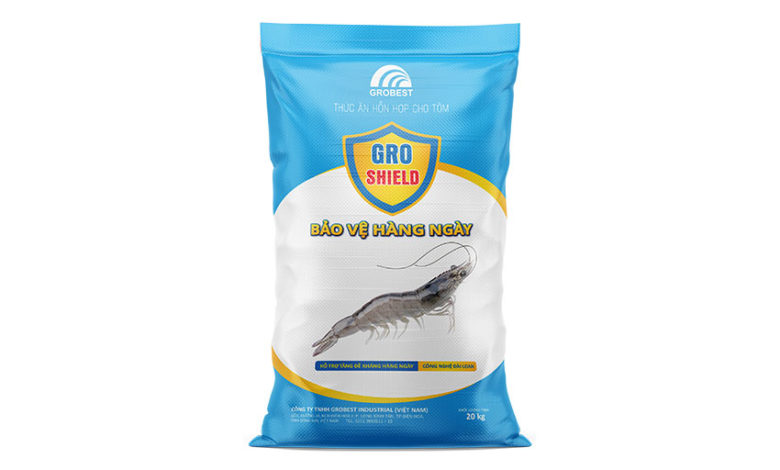 GROSHIELD is researched with specialized formulas and exclusive additives originated from Taiwan
Ho Chi Minh city, January 17, 2023: Recently, Grobest Vietnam Co., Ltd. (Grobest) has officially introduced a brand new product called GROSHIELD into the functional aquafeed line that has made their brand a household name among Vietnamese shrimp farmers. Unlike other conventional functional feed, GROSHIELD is recommended for daily feeding in order to proactively boost the natural immunity mechanisms of shrimp, and provide long-term prevention against common disease outbreaks with the motto of "Winning the race with strong immunity".
According to records, recent years have seen a rapid increase and diversification in shrimp diseases with many dangerous complications. Specifically, a wide variety of diseases such as AHPND, EMS, WSSV and EHP farmers are leaving farmers vulnerable to the risk of dead loss or costly repair expenses. Data published by the Ministry of Agriculture and Rural Development at the Conference on Prevention and Control of Aquatic Diseases in 2022 revealed that in the first period of 2022 alone, the total area of damaged aquaculture (including that of shrimp) has increased by 14% compared to the same period in 2021. With disease concerns always looming large over shrimp yield, farmers are constantly on the lookout for a long-term disease prevention solution that is truly effective and sustainable.
In response to such concerns, Mr. Ko Chi-Kang, President of Grobest Group, together with Grobest's team of leading industry experts have successfully developed the daily functional feed for shrimp called GROSHIELD on the basis of rigorous research and solid scientific underpinnings.
Farmers can rest assured that the specialized formulas and exclusive sources of additives are originally from Taiwan, as with all products previously introduced by Grobest. More specifically, GROSHIELD has been well refined and improved from its successful predecessor SUPER SHIELD in order to drive maximum immunity and health performance, all for the ultimate goal of fruitful crops for Vietnamese farmers.
GROSHIELD is used during the initial culture period and for daily feeding under normal conditions. To improve the growth and health of shrimp, farmers can start using GROSHIELD after 35 days of farming according to specific indication or a 20 – 50% of daily feed depending on actual conditions. In addition, the product also provides an optimal amount of Coenzyme, which helps to enhance the hepatopancreas function for small shrimp, while also promoting the beneficial intracellular and extracellular enzymes for later development. An enriched profile of amino acids and peptides within the formula can stimulate smooth metabolism in shrimp and allow for more efficient nutrient absorption.
On the occasion of the product launching, Mr. Ko Chi-Kang stated: "With GROSHIELD, we have developed a new and superior formula that helps to enhance aquatic animals IMMUNITY on a daily basis and is COST-EFFICIENT for farmers. We will encourage the use of this nutrition solution among shrimp farmers with the aim of alleviating risks for the industry. In addition to this, Grobest and I hope that we will soon be able to share more of our latest and effective research findings regarding shrimp farming with Vietnamese shrimp farmers."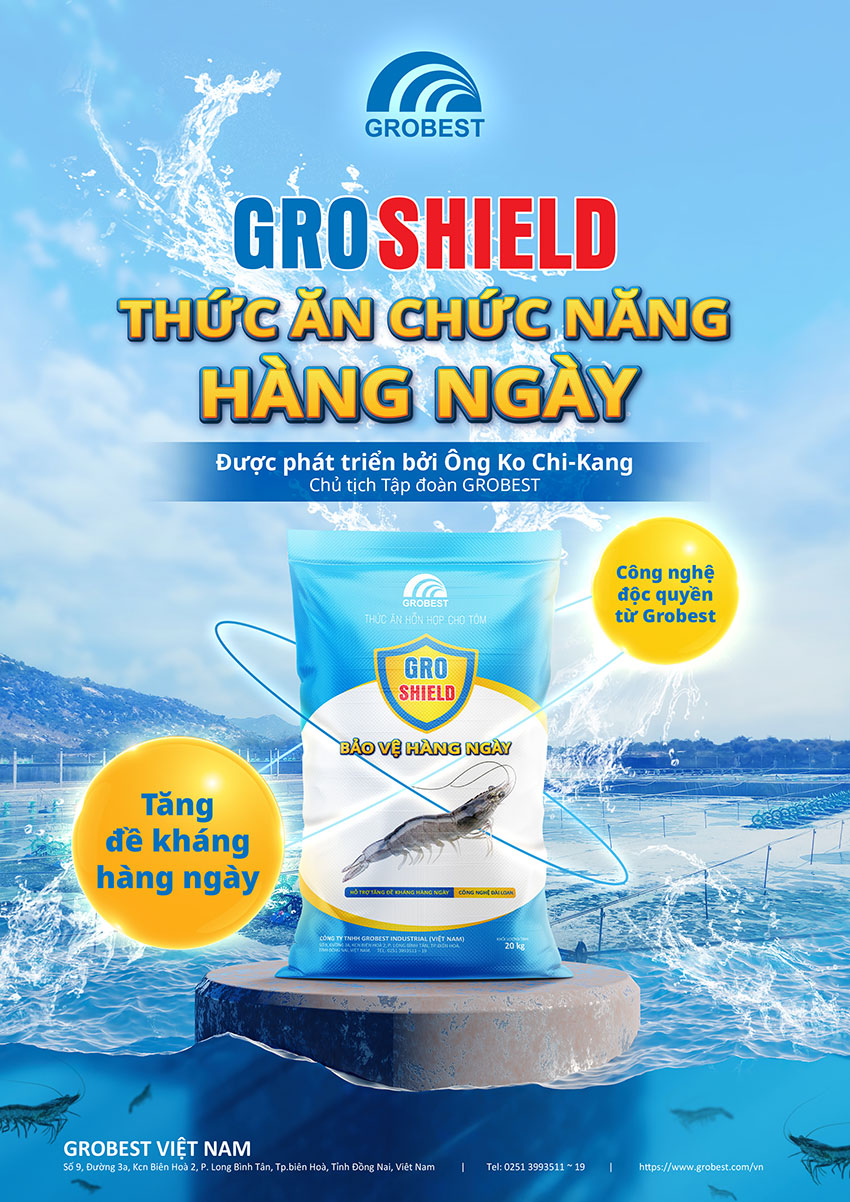 GROSHIELD is Grobest's pioneering solution in improving daily immunity for shrimp
With the motto of "Winning the race with strong immunity", GROSHIELD is not only the embodiment of Grobest's dedication to providing shrimp farmers with practical solutions, but it also upholds Grobest's commitment to always accompany shrimp farmers with pioneering, creative products for profitable and sustainable crops. GROSHIELD is one of the first steps in Grobest Vietnam's journey to diversify their functional feed lines and better serve the needs of farmers.
ABOUT GROBEST

Since its establishment in 1974 in Taiwan, Grobest has maintained a leading position in the research and development of natural, antibiotic-free animal feed products aimed at sustainable and environmentally friendly farming. Its continued success has led the company to grow into a business with over 3.500 employees, and offices and production facilities across numerous countries such as Vietnam, Thailand, China, India, Indonesia, the Philippines and Malaysia. In 2018, global investment fund Permira invested in Grobest, providing the company with another growth driver. Having established strong foundations across Asia, Grobest is now ready to reach out to the world.

For more information and details of Grobest's products, please visit:

https://www.grobest.com/vn