Aquaculture
Thanh Hóa: Turn the wasteland into shrimp zones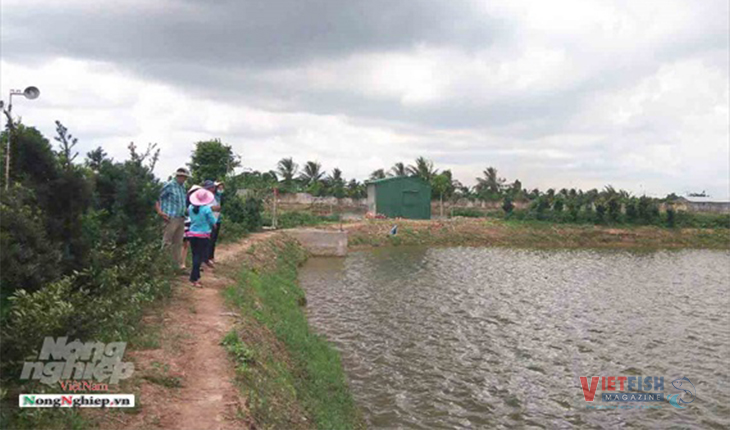 For the last few years, white leg shrimp culture has been considered a solution to the sustainable economic development direction of coastal communes in Hậu Lộc district of Thanh Hoá province. The wasteland has been rehabilitated into a large-scale aquaculture area that follows VietGAP standards, contributing to the reduction of ocean pollution.
Wasteland turned into "gold land"
Hậu Lộc district has 6 coastal communes: Hòa Lộc, Hải Lộc, Minh Lộc, Ngư Lộc, Hưng Lộc, and Đa Lộc. Local farmers used to rear black tiger shrimps and giant tiger shrimps. However, white leg shrimp culture has been a new direction of development. The district has now 70 ha of industrial white leg shrimp farm, producing 12 tons/ha on average.
Realizing the effectiveness of white leg shrimp culture, in April 2014, farmer Lê Văn Lương in Hoà Lộc commune of Hậu Lộc district, rehabilitated 2ha of water surface and spent more than 1 billion dong building a drainage system, lighting system, buying post larvae and stocking shrimps at a density of 60 pcs/m2.
"After 5 years of rearing white leg shrimp, my shrimps weigh up to the size 30-40 count shrimp with survival rate reaching 70% and the average output of more than 10 tons/ha. Selling them at 150-180 thousand dong/kg, my family earned more than 200 million dong profit per crop after cost", said Lương.
As of April 2020, Hoà Lộc commune changed as many as 41 ha of agriculture poor land, and low income salt field into a white leg shrimp farming area and other fields of black tiger shrimp and grouper, bringing the total brackishwater species farming area up to nearly 80 ha, including 8.8 ha of hitech based shrimp farms.
Environmental protection paid attention
In Đa Lộc coastal commune, households are improving their farming techniques by using probiotics from the pond rehabilitation to harvest. According to some local white leg shrimp households, after the sedimentation, water will be sterilized by chlorine and enriched. Appropriate use of probiotics will help recover useful micro bacteria and recreate natural feed sources, as well as dissolve organic substances, reduce mud in grow-out ponds, deodorize water. Thus, water will be stored, eliminating the discharge of waste out to the environment.
VFM