Environment
Côn Đảo's 1.4 bil VND project to save coral reef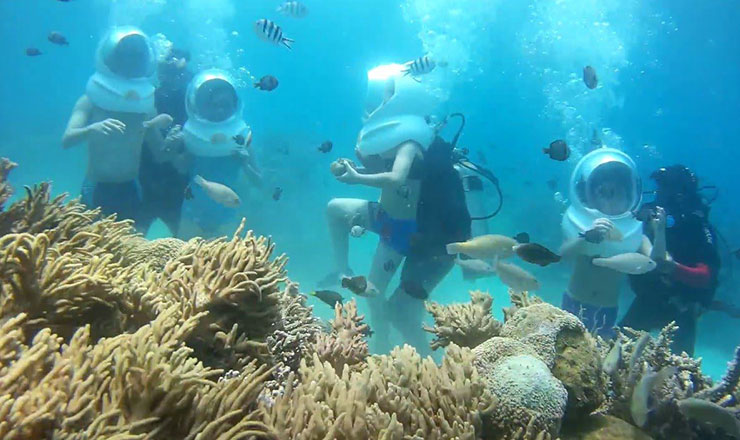 Côn Đảo National Park is one of the most popular coral reef diving destinations in Việt Nam. With coral cover of about 65 percent, it has some of the most gorgeous jagged coral reef in the country.
Marine experts and researchers at Côn Đảo National Park have put a great deal of effort into recovering and developing the coral population. Their efforts have paid off. More than 1,500 branches of corals have been transplanted onto the seabed, 7 to 8 metres underwater. The recovery rate is more than 95 percent, according to Trần Đình Huệ, deputy head of the forest management board of Côn Đảo National Park.
In 2018, Côn Đảo National Park coordinated with the Nha Trang Institute of Oceanography to recover and develop the coral population over an area of 40 hectares. "The project aims to protect more than 2,000 ha of coral reefs in Côn Đảo and raise awareness among local fishermen and visitors about the importance of coral reefs on the verge of degradation," Huệ said.
The project runs from 2018 to 2020 with an estimated budget of 1.4 billion dong  (US$60,000) in three areas of Côn Đảo where coral reefs have been slow to recover: Đất Dốc, Hòn Tài and Bãi Cạnh. It aims to transplant 2,500 branches of corals over a total area of 3ha.
The marine experts and researchers of Côn Đảo National Park, with diving equipment, GPS and specialised devices, dive under the sea to track the condition of the coral ecosystem. They study the hard coral and soft coral cover as well as the rate of dead coral.
The first phase of the project focuses on offering training to the local community to improve their awareness of marine protection and coral recovery techniques; recovering 1ha of coral with more than 1,500 coral branches transplanted. In the second phase, another 2ha of corals will be recovered.
Coral branches are transplanted by being placed in reef balls – the circular concrete structures with holes and nodules for organisms to swim through and live in.
Each reef ball is 0.8 metre high, 0.6 metre wide and 5cm thick. About 10 branches of coral which are from 10 to 30 cm long are placed on each concrete reef ball at depths of 7 to 8 metres underwater. Seven species of coral belonging to three varieties of Acropora, Montipora and Pocillopora and two families of Acroporidae and Pocilloporidae were chosen to be recovered.
There have been 150 reef balls with 1,560 branches of corals anchored to the seafloor so far. The rate of recovery is 95 per cent. It is estimated that after one year, corals will be 15 to 20 cm tall and after two to three years, the transplanted corals will grow like normal ones, according to Huệ.
"The recovery of coral reefs will help to increase the coral population, provide shelter for different types of aquatic animals including turtles which are common in Côn Đảo; create an ecosystem balance and help to make the area an attractive destination for coral reef diving," said Nguyễn Văn Vững, a member of the coral recovery project.
In the first phase, about 40 fishermen took part in training on values of coral reefs and techniques of transplanting and recovering corals.
In the future, local fishermen will take part in the recovery work with the park's staff. They will be paid to do the coral transplantation under the sea.
"By doing this, fishermen can earn from the preservation work and have a greater sense of responsibility in protecting the ecosystem and the ocean on which they have lived for generations," said Huệ.
Due to the deterioration of coral reef systems caused by the warming of the coastal seawater and the boom of tourism and fishing activities, marine experts have also conducted coral transplantation and recovery in areas including Cô Tô in Quảng Ninh, Rạn Trào in Khánh Hòa, Hòn Ngang in Bình Định, and Phú Quốc in Kiên Giang.
Côn Đảo National Park, covering nearly 6,000 ha on land and 14,000 ha of water, is an archipelago with 16 islands located some 80 km off the coast of southern Việt Nam. With more than 340 species of coral, Côn Đảo is among the richest and the most diverse coral reef destinations in the country and coral reefs here also have a high diversity of fish and other aquatic species.
VFM