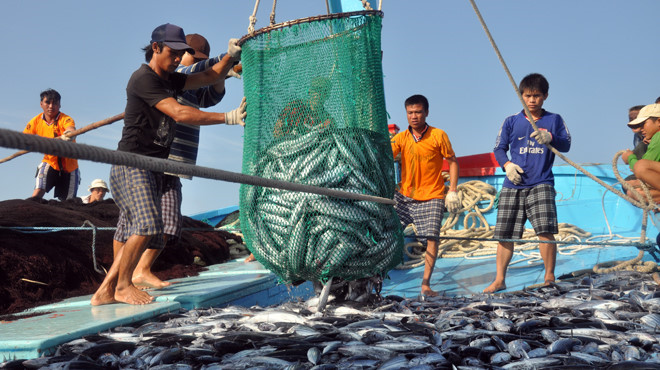 Many fishermen in Khánh Hoà started to apply advanced technologies and techniques in offshore fishing activities. New technology helped them approach further marine resources, earning more from each trip, changing the economy and protecting water territories.
Modernize fishing boats
Hòn Rớ fishing port, the largest one in Khánh Hoà and Central Coasts, the boat KH-97279 owned by Lê Văn Thuyền (Nha Trang city) is one of the most modern boats in the province. This boat was funded 20 billion dong and put into operation in 2017. The composite body and furniture inside the boat are desired by many fishermen.
Captain KH-97279 Ngô Xuân Hoàng said that besides the modern LED system equipped in the board, there is full digital equipment in the cabin, ensuring safety during the trip as well as increasing capacity. Owners of fishing boats in Khánh Hoà have been introduced to hitech machines and equipment for marine exploitation.
Farmer Nguyễn Đức Khánh (owner of the boat KH-90127-TS, in Nha Trang city) said that he has been devoting into traditional exploitation for 40 years, and yet he decides to change so as to catch up with the trend. And his boat has been equipped with necessary technologies for tuna catching.
"Besides necessary communication equipment, I installed surveillance cameras as regulated to prevent possible incidents and enable the rescue team to search me, just in case", said Khánh.
Ngô Xuân Hoàng, captain of fishing boat KH-97279 said that thanks to modern equipment and advanced technology, he can earn 40-50 tons of fish, even 100 tons, after a 20-day long trip.
Khánh Hoà has a lot of offshore fishing boats, with 548 boats catching tuna. Catching tuna by fishing tackle can bring in 7-12 tons each trip. Ocean tuna catching can bring in 700kg-1.5 tons each trip. Trot-line catching can get 17 tons of tuna. The fishing ground is mainly Spratly Island, Paracel Islands, and oil rig DK1.
According to o Nguyễn Trọng Chánh, Head of the provincial sub-department of Fisheries, the application of new technology, especially Led lighting system, has brought in higher output and saved more fuel as compared to the traditional high voltage light. This is a forward trend in the marine exploitation sector.
Form a production chain
Khánh Hòa has infrastructure for exploitation and process of seafood to assure full and synchronous development. The province has two large fishing ports Hòn Rớ (in Nha Trang city) and Đá Bạc (in Cam Ranh city) to serve tuna exploitation, 11 boat building factories, and 20 facilities supplying material and fishing gears to offshore crew.
Meanwhile, the amount of wild-caught fish up to 100,000 tons/year has boosted the process and exports of seafood. 44 companies in Khánh Hoà have granted certificates of seafood exports by the Ministry of Agriculture and Rural Development. This is the biggest advantage for the province to build supply chains, from process to consumption.
According to Khánh Hoà's sub-department of fisheries, two supply chains that exploit, purchase, process, and consume tuna have been formed since 2016 and 2017.
Supply chains have produced good results, improving the efficiency of exploitation and product quality, creating a stable trading environment for local fishermen and companies, stabilizing their livelihood and protecting sovereignty of the country.
VFM