Fisheries
Khánh Hòa: Tuna fishermen start year with bumper catch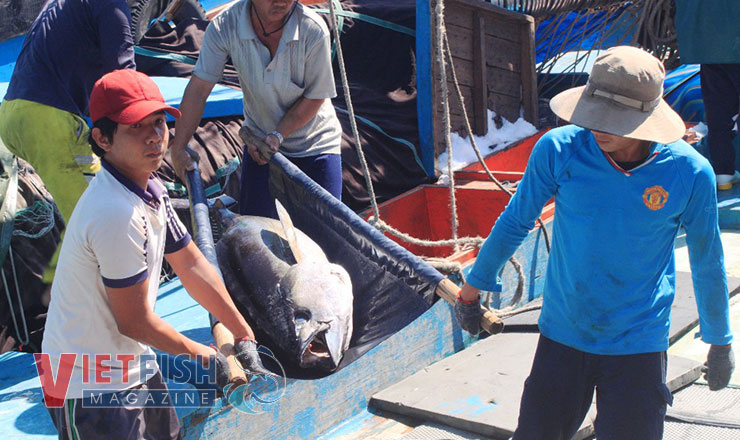 Fishing boats full of ocean tuna came back at the Hòn Rớ port of Nha Trang city from the very first trip of the year and earned hundreds million dong after selling ocean tuna at the price of VND 149,000/kg to traders.
On January 15, dozens of fishing boats arrived at the Hòn Rớ fishing port of Nha Trang city after a month-long trip on the ocean catching tuna. On the vessel with capacity of 420 CV, fishermen Dương Tèo, 46, and the whole crew were using a truckle to pull ocean tuna from cold stores.
Tèo has two ocean tuna fishing vessels, 5 members on each. After twenty days on the Spratly Islands, they came back with both vessels full of fish. More than 5 tons of big fish and 300 kg of small fish were caught, bringing in hundreds million dong of profit.
Workers went to the port early to wait for owners of fishing vessels or traders to hire, mainly in the morning. Đặng Phương Nam, 24 wearing black shirt on the left, and two workers brought a tuna from the vessel to the shore to sell to traders. His income depends on how many vessels came back. When there are many vessels arriving, he can earn 500,000 dong in the morning; however, there are days when he earns only tens thousand dong, or even none.
Technical workers of purchasing companies scale and check the flesh of those ocean tuna which weigh 40-50 kg each on average, even more than 65 kg.
Tuna will be classified to be packaged after being checked for quality, color and flesh, and then transported to the company for processing. Ocean tuna is being bought at 149,000 dong/kg, higher than before (the highest price was 115,000 dong/kg due to the pandemic). 
All tuna are sold in bulk to enterprises with freezer trucks parked at the port to be ready for packing the fish in salt and transporting them to purchasing companies.
Fishermen Huỳnh Văn Cu, 51, sprays water to clean his vessels after tuna are sold out. After a 20-day trip of catching 1 ton of tuna, he earned tens of million dong of retained profit, and his crew, 5 people, was paid 10 million dong each.
A nearby fishing vessel is cleaning the dock and collecting the mesh after the trip at the end of the lunar year. The owner is about to send his crew to their home for Tet Holiday and come back later.
Nguyễn Văn Ba, Vice Manager of the Management Board of the Hòn Rớ fishing port, said that there had been more than 30 offshore fishing vessels arriving at the port since earlier the month. The Hòn Rớ is one of the largest  fishing port in South Central with hundreds of vessels porting in and out every day. Khánh Hòa has 300 ocean tuna fishing vessels.
VFM