Markets
Export of ocean tuna copes with difficulties in the EU and US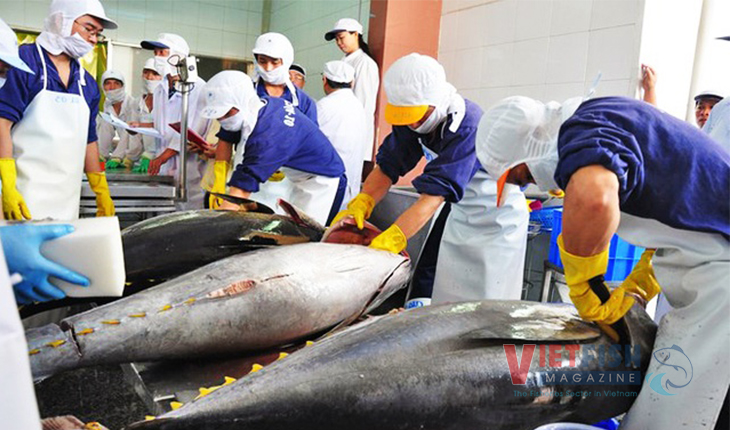 Multiple companies related to purchasing, processing and exporting ocean tuna in the South Central Coast are coping with challenges due to the coronavirus spread in Europe and the US.
According to Khánh Hòa fishermen, most tuna fish boats are suffering from loss due to low output. Prices of ocean tuna decrease by 15,000-20,000 dong/kg to 90,000 dong/kg when companies reduce their purchases of this species.
Around 30 companies were leasing plan to purchase material fish in Hòn Rớ fishing port in Nha Trang city. However, difficulties in exporting have made them return the plan, close and halt their purchases.
According to some traders in Khánh Hòa, a 15-20% decrease in tuna prices in the previous month was attributed to the bad impact of covid-19 pandemic on exports. Most core markets of Vietnamese ocean tuna are suffering from the pandemic, especially the US and EU.
Director of Sustainable Seafood Ltd., Co in Khánh Hòa, specializing in tuna exports to the US, said that the outbreak of the covid-19 epidemic occurred in the US in winter, resulting in a slump in fish consumption. When it came to spring, the epidemic became a pandemic in the US, leaving serious challenges on ocean tuna exporters. Her company has exported only 5% of the material fish, the rest is stored.
"We spend 25-30 billion dong buying material fish, but earn a worth of 2-3 billion dong from exporting. Meanwhile we have to pay farmers and cover the interest rate of the loan and the suddenly increased power charge from cold warehouses", said Thanh.
Some ocean tuna exporters said that even though Vietnam contains the pandemic while the US and EU haven't, the exports of ocean tuna still cope with difficulties. Moreover, ocean tuna is a "luxurious food" served to the rich in restaurants; when their income is reduced due to the pandemic, the consumption of this fish will decrease regardless of pandemic containment.
Võ Khắc Én, Deputy Head of Fisheries sub-department in Khánh Hòa said that local ocean tuna exporters reduced their purchases following the bad impact of the covid-19 pandemic.
The province has 44 companies related to processing and exporting seafood, 6 of them specialize in purchasing and exporting ocean tuna. In quarter I, 2020, Khánh Hòa had 173 cargo with more than 600 tons of seafood of all kinds being granted with exploitation certificates for exports; however, only $114.3 million worth of fish were exported, down 14% from the same period last year.
VFM