Markets
Find sellers of Cô Tô's jelly-fish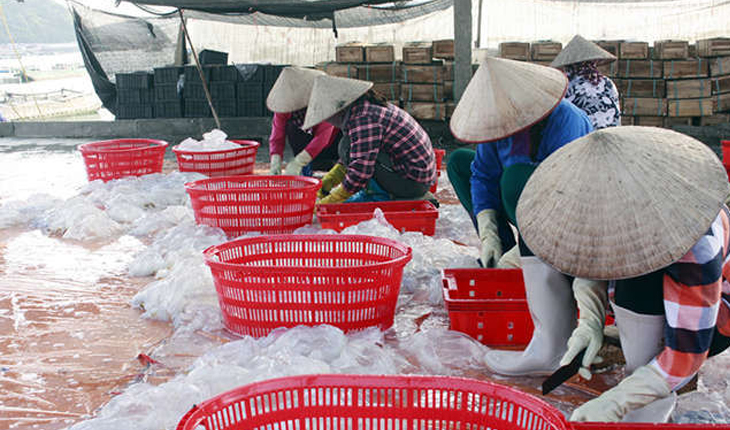 Cô Tô's jellyfish sector brings high profits in exports and provides jobs for hundreds of workers in this district of Quảng Ninh province. However, those "white golds" are facing a lot of difficulties.
Jelly-fish season starts from December through April every year. Cô Tô district has 33 processing facilities of jelly-fish. Each purchases 1,000-1,500 jellyfish per day, around 25-35 tons and hires 20-30 seasonal workers. As many as 2,000 workers come to Cô Tô during the jellyfish season with each earning up to 15 million dong per month.
In abundant crops, a crate of jellyfish can be sold at 200,000-300,000 dong (7-10kg/crate). One crate of red jellyfish is priced at 1-2 million dong. The exploitation and processing of jellyfish have paved a new way in developing Cô Tô's fisheries industry, bringing in high economic efficiency and raising local households' income.
The output of processed jellyfish reached 100,000-300,000 crates per year during the last five years, resulting in an annual revenue of 80-100 billion dong (accounting for 80% of the total value of seafood products). This species has become a "white gold" mine of local residents. However, that was the past as Cô Tô is managing to cope with a lot of difficulties.
Walking in the jellyfish processing area at the end of Móng Rồng rock land (in Section 4 of Cô Tô town), where tens of facilities were busy with processing jellyfish, it is likely deserted as only one or two are looking out for jellyfish in each facility. Visiting Phạm Thị Bốn's facility, it can be seen that only she and her husband are with jellyfish products. The salt pond is filled with finished products and tens of tons of jellyfish products are packed and stored.
She sadly said: "I have more than 100 jellyfish ponds and produce around 250 thousands of crates, 7kg each, equal to 175 tons of jellyfish in each season. It's so sad this year as there are so many deliverables but no sellers, even though prices are cheap. We are looking forward to sellers".
Mai Công Đàm in section 1 of Thanh Lân commune, owner of the largest jellyfish processing facility said that before 2018, jellyfish was a gift from God and a hope to escape from poverty and become rich of Cô Tô's farmers. However, the slump in consumption has occurred for two years with finished jellyfish products not being exported. Many cargoes were stored in months waiting for procedures and transportation, leaving severe damages.
His worries are worries of more than 30 households related to processing jellyfish in Cô Tô. According to statistics, as many as 150,000 crates of jellyfish deliverables are stored. Households face challenges in paying bills of electricity, water, worker and facility rent.
Hà Mạnh Hùng, Head of the district's office of Environment and Agriculture Resources said that it was attributed to the fact that importing countries changed trading policies and tightened regulations of imports, traceability, food safety, packaging and preservation. This is the root of suffering of Cô Tô's jellyfish sector.
Hùng said that the district is ramping up working with credit institutes for delay and rescheduling of debt, expanding the domestic market, holding conferences to connect with distributors nationwide. The district's authorities should inform local farmers of China's regulations of imported seafood products and guide them to fulfill documents for granting certificates of food safety, labeling and origins so that exported products will meet domestic and global standards, not depending on a single market. Chain value is encouraged (from exploitation, process to consumption) to be carried out by association, domestic and foreign companies that are qualified enough for exports. The district's authority is making reports to the provincial authority so that they will propose to the relevant ministry and sector for solutions.
Cô Tô's companies are applying science and technology in processing fast food from jellyfish to serve the domestic market by putting the product on menus and listing it in the OCOP program to sell foreign consumers, eliminating the dependence on the Chinese market.
VFM