News
Briefing of seafood market in the first six months of 2020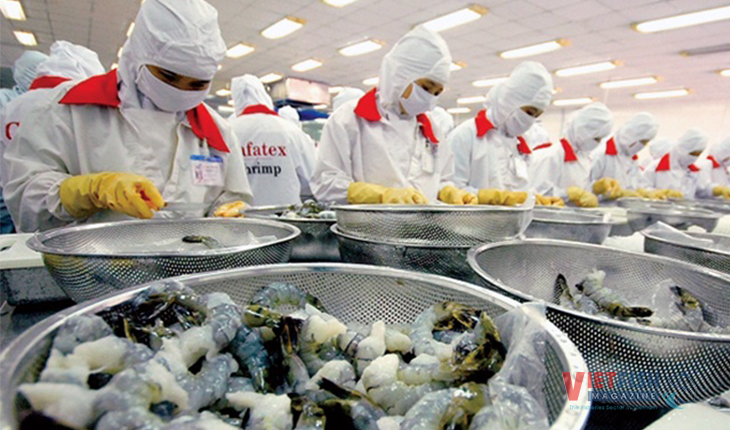 Prices of pangasius material have been low since early 2020, down 40% from last year due to the spread of COVID-19.
Prices of pangasius fall, shrimp increase
Prices of pangasius material in the Mekong Delta have been low since early 2020, with size 700-800g/pc ranging at 17,500 – 18,000 dong/kg; meanwhile the production cost was at 21,000-22,000 dong/kg, down 45% compared to the same period last year. The spread of COVID-19 has got production and exports put on hold, demand and selling prices to decline, resulting in sales to the US falling by 16% and to ASEAN drop by 24.4%. The abnormal drought and salt intrusion in the Mekong Delta affected pangasius farming areas and made a lot of farmers stop stocking due to lack of water and ill-equipped irrigation work.
After a long time on the decline due to coronavirus impact, prices of shrimp material in the Mekong Delta started to increase in May 2020 and remained high in June 2020. White leg shrimps size 100 pcs/kg were sold at 95,000-100,000 dong, up 15,000 – 20,000 dong/kg compared to the previous three months. Black tiger shrimps size 30 pcs/kg were sold at 200,000 – 230,000 dong, up 30,000 – 40,000 dong/kg. This was driven by  a few stockpiles in markets and increase in sales in supermarkets and retailers in defiance of slump in consumption in restaurants and hotels when consumers prefer buying home for cooking during the coronavirus pandemic.
Increase in material supply source, decrease in exports
The country's seafood output reached 3.04 million tons in the first five months of 2020, up 2.2% from last year. In particular, the yield of wild caught species reached 1.5 million tons, down 2.2% from last year, with 1.4 million tons of marine species, down 2.1%.
Regardless of decrease in exploitation, farm raised species reached 1.54 million tons, up 6.8% from last year. Output of fishes was estimated to reach 1.05 million tons, down 2.8% (pangasius reached 462,000 tons, down 6.3%) and output of shrimps of all kinds reached 252,200 tons, up 6.5% (88,300 tons of black tiger shrimp, up 0.9% and 104,900 tons of white leg shrimps, up 9.5%).
Total seafood output is estimated to reach nearly 3.8 million ton, up 1.4% compared to the same period last year, with exploited species reaching 1.9 million tons, up 1.7% and cultured species reaching over 1.9 million tons, up 1.2%.
Imports into Vietnam reached $698.97 million in the first five months of 2020, down 4.2% from last year, accounting for 0.7% of the country's total import volume, according to the General Department of Vietnam Customs (GDVC). The seafood export volume in May reached $648.81 million, up 4% compared to April but down 15.9% from the same period last year. The country took in $2.89 billion in May, down 9.2% compared to the same period last year.
Japan is given the rank of the first importer of Vietnamese seafood, accounting for 19% of Vietnam's total seafood export volume, reaching $547.53 million and declining by 1% from last year.
The second is the US with $490.16 million, accounting for 17% and decreasing by 3.8%. Exports to the EU reached $425.19 million, accounting for 14.7% and declining by 13.2%. Sales to China reached $373.18 million, accounting for 12.9% and decreasing by 2.3%. Sales to Korea reached $282.81 million, accounting for 9.8%, down 8.4%.
Forecast
The overwhelming coronavirus pandemic in many countries in Europe and Asia has alleviated difficulties in sales of pangasius and the 2020 target of bringing in around $2.2 billion is not possible without a reasonable and effective solution.
As forecasted by VASEP, seafood exports will recover in the next few months as the EU market reopened in May and demand is growing. However, the on-going COVID-19 pandemic in the US and other countries will continue to wreck global seafood trading. Thus, it is difficult for Vietnamese seafood to recover in the last months of the year.
With sharp growth in the last few months, Japan is expected to be the largest destination of Vietnamese seafood this year and compensate for the slump of sales in the EU and US. The uncontained coronavirus pandemic in the US, EU and Brazil will make Vietnam's pangasius exports suffer in quarter 2 of 2020, according to VASEP. If epicenters can contain the pandemic and reopen their economies, pangasius exports will have an opportunity to recover.
Vietnam's shrimp exports are forecasted to increase after the COVID-19 pandemic as shrimp power houses such as India, Ecuador and Thailand have been put on hold due to lockdown orders. The EVFTA which will soon become effective will strengthen Vietnam's competitiveness in the EU. Plus, the country will benefit from the low duty rate imposed on seafood going into the US. Shrimp exports are expected to increase in July.
VFM