News
Cà Mau: Dried fish hub in Cái Đôi Vàm back to normal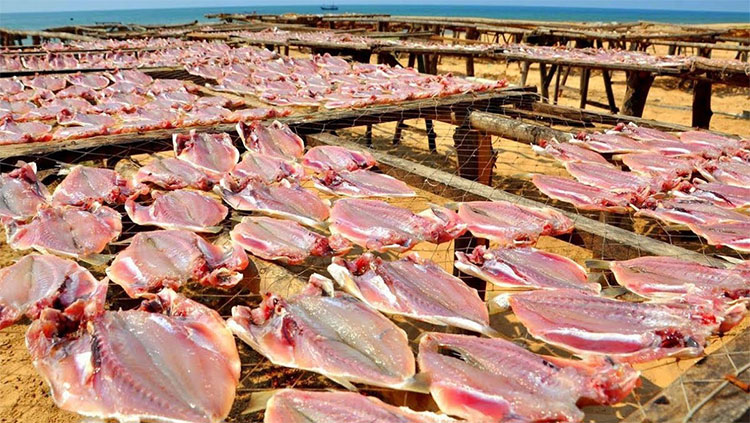 Dried fish is one of key products of the Cái Đôi Vàm estuary in the Phú Tân district, Cà Mau province. Noticeable sales of dried fish were recorded irregardless of the social distancing measures, providing employment opportunities and helping enterprises deal with business difficulties during the pandemic.
The Cái Đôi Vàm estuary is busy again after the Cà Mau provincial authorities loosen the social distancing measures in accordance with the Instruction no.15. It is not as busy as usual, but local people are excited with production and purchases being back.
To fulfil the cargo, workers of group 3, 4, and 5 start to dry fish naturally under the sun. Every single worker wears a mask and keeps a safe distance while working to protect himself and satisfy the safety instructions.
Cái Đôi Vàm has been an icon for a long time. Product variety, and quality and flavor assurance are the main factors to expand markets of Cái Đôi Vàm's products. The social distancing has made it difficult for agricultural products but Cái Đôi Vàm products. Noticeable sales were recorded, especially in Hồ Chí Minh city.
Not only has the Ngọc Trân fish sauce Cooperative in Group 5 of the Cái Đôi Vàm town been known for special fish sauce, but it is also one of large dried fish hubs of the town. Chairman of the Board of the Ngọc Trân fish sauce Cooperative Trần Phước Nhân said that mullet, semi-dried croaker, matis shrimp, halibut, and anchovy had been all sold out for months. Around 1.5 tons of dried fish of all types were sold every day, mainly to Hồ Chí Minh city and some provinces in the Mekong Delta at 100,000-300,000 dong/kg. Products would be cleaned, marinated, dried, packed and vacuumed for long preservation and safety.
"Dried fish is popular during the pandemic as it is easy to eat and cooked, and can be preserved for a long time. Many customers in the city buy tons of dried fish to send to their family and friends in isolation facilities", said Nhân.
Nhân has to hire more workers as sales increase and the peak season approaches. He has offered jobs to more than 20 workers, mainly female, with a daily payment of 250,000 dong.
Chairman of the Cái Đôi Vàm Farmer's Council said: "The town has nearly 200 facilities and households working in the dried fish business. Besides market development, processing facilities pay special attention to trademark and food safety and sanitary so as to protect consumers' health".
VFM