News
Cà Mau targets 320,000 tons of shrimp production by 2025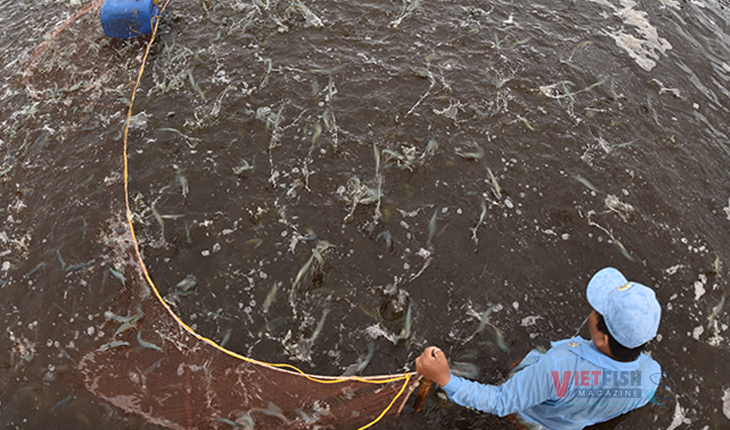 In the action plan of the shrimp sector by 2025, Cà Mau targets 320,000 tons of farmed brackish shrimp production per year, and the short-term target is 230,000 tons this year.
Cà Mau is the largest shrimp farm in the country with around 280,000 ha. The super-intensive model has been developed for a few years in the province. This model requires high technique and is expected to mainly contribute to the province's shrimp output due to maximum output (70 tons/ha/year).
In the face of difficulties due to the environment degradation, households related to intensive and super-intensive shrimp farms in Cà Mau are gathering into cooperatives and groups to support each other for further development.
The Hoà Hiệp shrimp culture cooperative, in Nguyễn Việt Khái commune, Phú Tân district, can be taken as an example where 16 members were applying the super-intensive model. Nguyễn Minh Luân, Director of the Hoà Hiệp cooperative said that with one hectare land, farmers must design a sedimentation pond, treatment pond, race pond and grow-out pond, which cost hundreds of million dong. However, wise investment has enabled the treatment of disease outbreaks and management of risks, resulting in a higher rate of success. Luân's family has participated in a super-intensive model for three years and earned profit of more than one billion dong each, not to mention some failure.
Mã Huy, Deputy Director of Cà Mau's Agriculture Extension Center said that in the first six months of the year, the province saw an increase in shrimp output in defiance of the COVID-19 pandemic. Around 293,000 tons of shrimps were harvested, up 2.3% as compared to the same period last year, with a vast majority of farmed shrimps.
In the province's action plan of the shrimp sector up to 2025, Cà Mau set a target of bringing in around 320,000 tons of farmed brackish shrimps every year, with the short-term output being 230,000 tons. The efforts made by the competent authority and local farmers in the development of shrimp cultivation has been embodying this target.
VFM