News
Shrimp farming faces challenges due to misinformation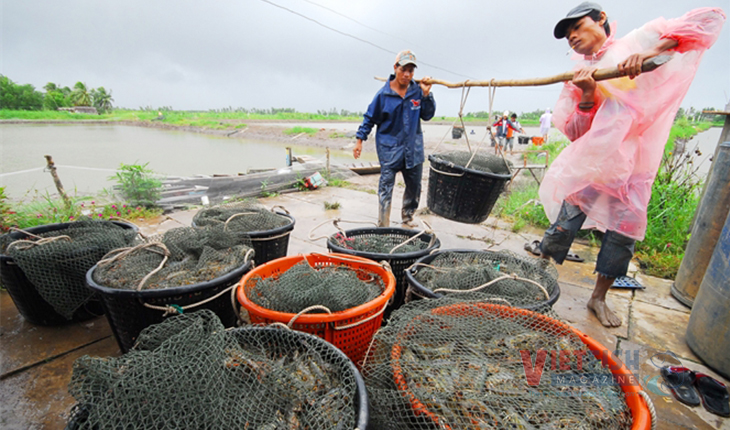 Profiteering against farmers' gullibility by some traders has resulted in market disorder in some shrimp farming areas. This involves from selling counterfeit to pushing down prices of commercial shrimps.
Early Mar 2020, the Inspectorate of Directorate of Fisheries and Economic Security (under the Ministry of Police) discovered two companies in Ninh Thuận, Phong Phú VN livestock production Ltd., Co and Phát Đông Thành marine livestock Ltd., Co., in contravention of marine livestock production because they were in lack of quarantine certificate and nursery certificate from qualified nursery facilities.
In the past two months, the Inspectorate of Directorate of Fisheries found out 15 transporters of 21 cargos (20 million post larvae) without quarantine certificates in Bạc Liêu, Sóc Trăng on Feb 18-21.
Cà Mau's farmers have been suffering from great loss due to slump in prices of white leg shrimp. In particular, shrimp size 100 pcs/kg is being sold at 70,000-80,000 dong/kg and shrimp size 30 pcs/kg is at 128,000 dong/kg, which leaves no profit to farmers. The rumor has it that companies halt purchasing shrimps following challenges in exports due to the covid-19 pandemic, resulting in a slump of prices in this species. This has triggered a domino effect. Early harvest caused a rapid increase in shrimp output in the market, preventing prices from going down back as before while traders were freely setting different prices.
Early harvest has happened on multiple farms with small sized shrimps being reaped, resulting in low price and unsteady market. The Cà Mau provincial Agriculture and Rural Development Department said that the market still kept purchasing shrimps but they were coping with pressure of suddenly purchasing a large amount of shrimp and huge stockpiles.
The local authority is requested to enhance the dissemination of a loss in profit and market disorder caused by early harvest; however, the flow of information given to from traders to farmers is faster, resulting in problems right before the harvest.
VFM