Processor
Chuang Jie Cheng, General Director of Sheng Long Company: "I am a lucky man…"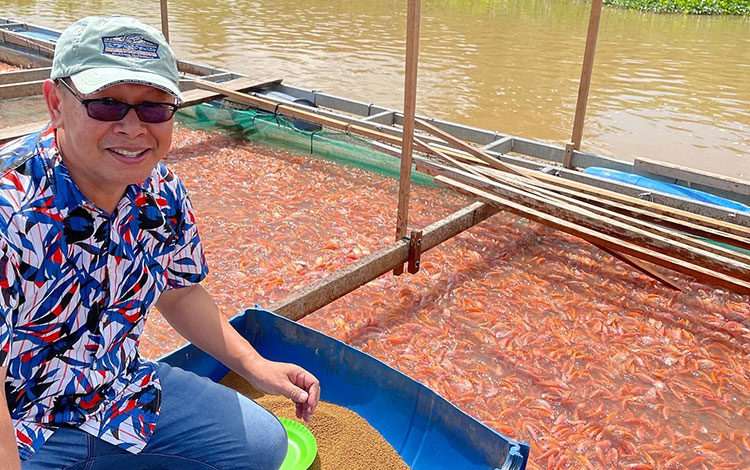 Feeling lucky to work in Vietnam, a potential market for the fisheries industry, and has luckily witnessed the gradual development of Vietnam's fisheries over the last two decades, Chuang Jie Cheng, General Director of Sheng Long Company, the leading trademark in the animal feed sector of Vietnam was very frank and open to talk with VFA about his thoughts of Vietnam's people, culture, and the industry.
VFM: Would you tell us about your childhood, profession and what you knew about Vietnam when you were young?
Chuang Jie Cheng: When I was at the university, I learned about the processing industry major, then I earned a Master's degree in food nutrition. At work I was assigned to study the nutrition of aqua feed and then sent to Vietnam. I had known of Vietnam through newspapers at school, I had never thought of coming to Vietnam. All the time I've been here, I've acquired greater knowledge and vision as Vietnam is a large and potential market, especially in the field of fisheries. I feel very lucky to work here because the aquaculture area in Taiwan is not big and the development is limited; therefore if I stayed in Taiwan I would never have a chance to learn and experience as much as when I come to Vietnam.
VFM: What was your first impression when you came to Vietnam?
Chuang Jie Cheng: I am one of very few foreign businessmen and experts who have witnessed the development of Vietnam's fisheries over the last two decades. I went to Vietnam in 1999 when local farmers still devoted their lives to black tiger shrimp extensive farming model, then semi-intensive model, intensive model, and now hitech based white leg shrimp culture model as an upward trend. I've also witnessed pangasius farming from cages with hand-made feed to industrial ponds that bring in high output. This land was always attractive to me. Thus, I decided to officially work in Vietnam in 2000. There are some mountainous regions in Vietnam that I've never visited, but I've set foot on most of the coastal provinces.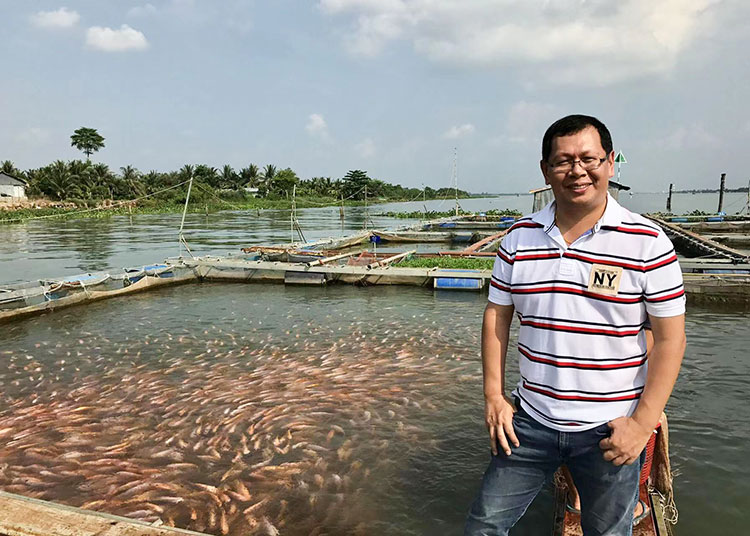 VFM: Would you tell us about the similarities and differences between the culture and people of Taiwan and Vietnam after years of living and working in Vietnam? And how did they affect your job?
Chuang Jie Cheng: I have seen similarities in culture between the two countries in terms of religion, family institution, and cuisine. Vietnam has fish salt and Vietnamese food is a bit more sour; while the Taiwanese take vegetarian diet more frequently and their food is delicate. I see no differences in culture, thus my job is not affected much, on the contrary I find it very interesting and familiar.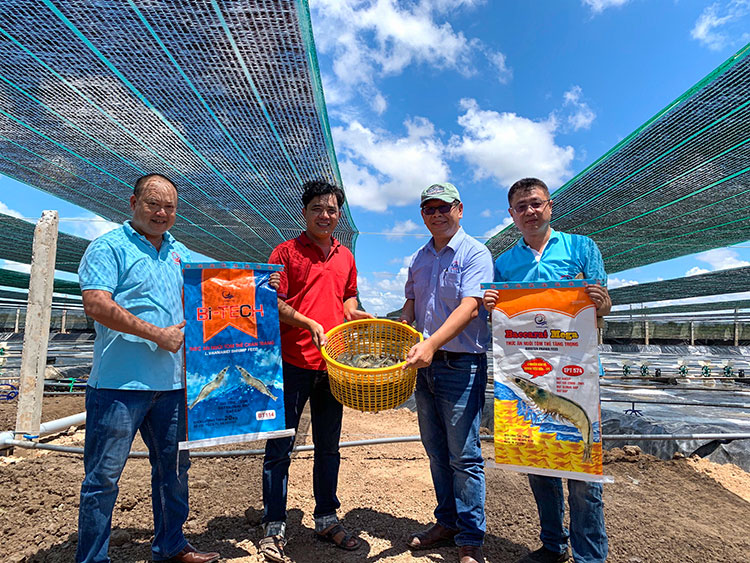 VFM: We've seen lots of Vietnamese engineers and workers consider you their family. They all say that you've made a great contribution to the development of Sheng Long Company. What do you think you've done for the Company and the fisheries?
Chuang Jie Cheng: I don't want to talk about my own contribution. What matters the most is that I've made friends with customers, agencies, and colleagues when working with them from extensive farming practice to hitech based farming, and from hand-made feed to industrial feed.
When the period of industrial feed began, we mainly imported, then we and staff of other companies started to build the feed production sector in Vietnam step by step. Farmers were not aware of farming techniques, thus they were frequently provided with training courses. They started with black tiger shrimp farming with low output, then got familiar with white leg shrimp practice and now hitech based shrimp culture methods with higher and higher density and output. I have taught them myself for decades.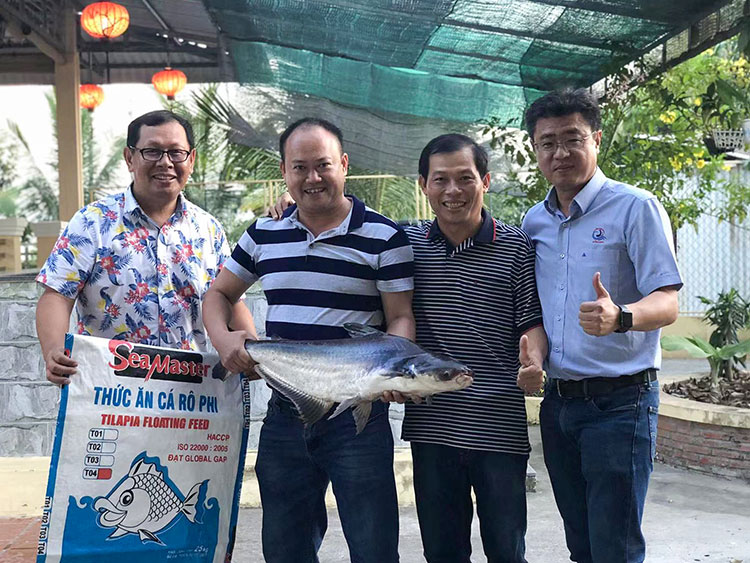 VFM: What strengths and weaknesses from processing to exportation do you think Vietnam's fisheries need to improve?
  Chuang Jie Cheng: Vietnam's natural environment is suitable for the development of the fisheries and the Government has adopted policies for the development direction of the industry. Moreover, Vietnamese are hardworking and creative. I think those factors create favorable conditions for Vietnam's fisheries to conquer the world. In foreign countries, they are farming facilities where farmers are employees. In Vietnam, households work in medium and small scale farming ponds where they are both employers and employees, thus, they all bend over backwards. Vietnamese farmers learn very quickly when working with foreign experts, they willingly try something new and adapt to new things, that's why they are different from farmers of other countries. Farmers are pleasant to meet engineers and respectful to professional staff.
VFM: Vietnam's fisheries are suffering from fierce competitiveness in the world. In your opinion, what is the key to success in the future?
Chuang Jie Cheng: Competitiveness is increasingly fierce. Production cost in Vietnam is higher than in India and other countries, but Vietnam has an advantage of quality. Other countries have large aquaculture areas with low stocking density, hence, high output which results in low production cost. Production cost in Vietnam is high but we have the processing sector developed and we can produce various added value products and diversify products, thus Vietnam's exportation is good, while it's not in other countries.
In my opinion, Vietnam's difficulties in exportation are macro problems, such as technical tariffs imposed by importing countries but aquaculture. Besides, we must pay special attention to food safety so that we can expand the market.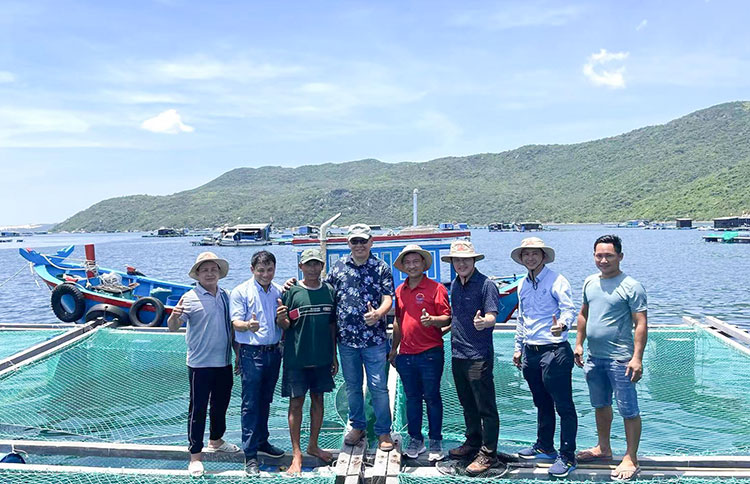 VFM: Would you give some advice to enterprises in the fisheries?
Chuang Jie Cheng: In my opinion, the first and also the most important matter of a company is product quality which decides the company's longevity. The second one is human, a company needs to have a stable and hardworking staff of engineers and workers. Different ideas can make the staff fall apart. As for the human matter, I realize that Vietnamese people are very attached and friendly, there are very few workers quitting the job due to income, most of them decide to leave due to the working environment and failed relationship with colleagues. Thus, companies must always create a good working environment to keep their employees.
VFM: In your opinion, what will help Sheng Long conquer the most demanding customers?
Chuang Jie Cheng: The success that Sheng Long has achieved today is made by lots of love, approval and support of agencies and customers. We think that the market is formed by the relationship between Company and Customers. Remaining the love with Customers is the most important thing that brings success to the Company in Vietnam. Besides, the products must be qualified and the Company must have proper policy and technical capability.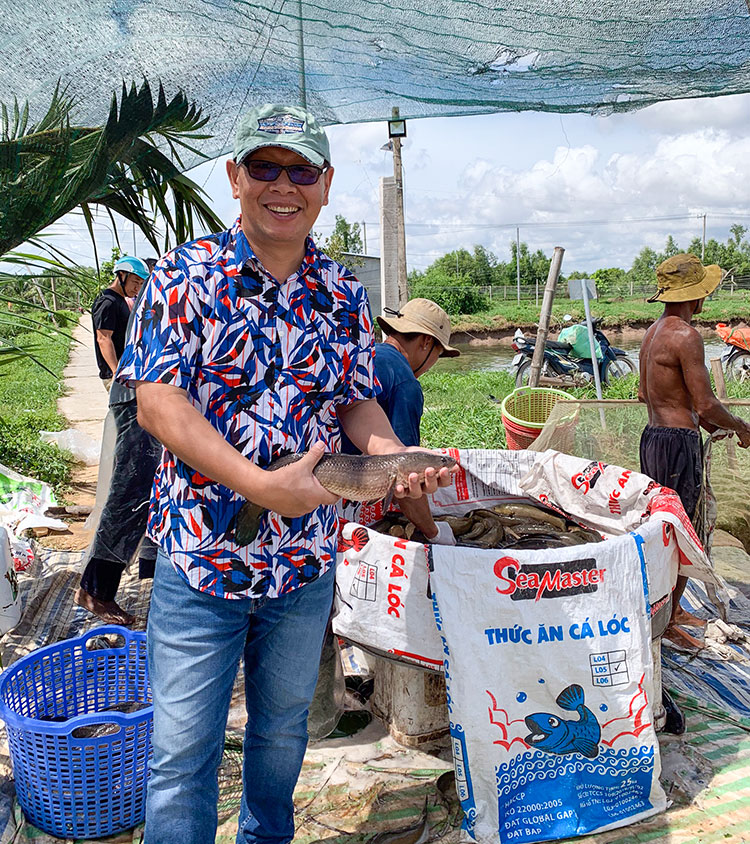 VFM: What is your evaluation and recommendation for Vietnam's fisheries in the next ten years?
Chuang Jie Cheng: The Government, ministries, and sectors are paying attention to the development of the country's fisheries and the Directorate of Fisheries has improved administrative procedures and issued clear regulations so as to help businesses shorten the time and tackle difficulties and obstacles in production and trading. This has facilitated businesses as well as the fisheries to develop faster.
VFM: Could you share about the development direction of Sheng Long Company in the future?
Chuang Jie Cheng: Sheng Long has clearly realized that the conventional method (competitive price and policy) can not be applied forever; we should focus on developing a value chain so as to bring real and effective value to farmers through the TLSS model (Sheng Long Smart System) that the Company has successfully deployed over the last two years. The provision of broodstocks is quickly carried out, feed is qualified, bioproducts are useful, and technical consultants are whole-hearted and sales are enabled. Thus, farmers can achieve more success, reduce production cost and increase further profit. Then customers want to engage with the Company and the agencies want to cooperate with the Company.
Sheng Long has focused and achieved success in producing white leg shrimp. Besides, broodstocks of tilapia, red tilapia are highly appraised. We will produce snakehead fish and pangasius broodstocks so that farmers can earn more profit when using high quality broodstocks. The potential of sea fish culture is huge and ready for exploitation, thus Sheng Long plans to focus on rearing sea fish such as grouper, seabass and pomfret. What matters the most in sea fish culture is sales because domestic consumption is still poor, meanwhile seabass is highly consumed in Thailand.
VFM: Is it true that your fascinating job in Vietnam has made you forget your own life?
Chuang Jie Cheng: I started to work in Vietnam in 1999 and I have regarded Vietnam as my second motherland. To me, colleagues, agencies and customers are my family and Sheng Long is my home. If I had my own family, they would be studying in universities. Sheng Long is my big joy. Moreover, I love the close and emotional life in Vietnam.
TSVN: Thank you.
Trần Nguyễn Anh 
Being one of the leading companies in Vietnam's fisheries, Sheng Long has focused on closely connecting breeds, animal feed, bioproducts and technical services. With 15 production chains of shrimp feed and 7 extrusion machines of fish feed, the Company intends to provide domestic and foreign markets with 600,000 tons of feed for shrimp and fish and two billion shrimp post larvae. In 2022, Sheng Long will deploy a value chain of tilapia and pangasius from breeds, feed, culture, processing to export. Besides, the TLSS (Sheng Long Smart System) has been studied and successfully deployed in shrimp farms since 2020, bringing sustainable value to farmers.