Aquaculture
Address drought and salt intrusion in shrimp farming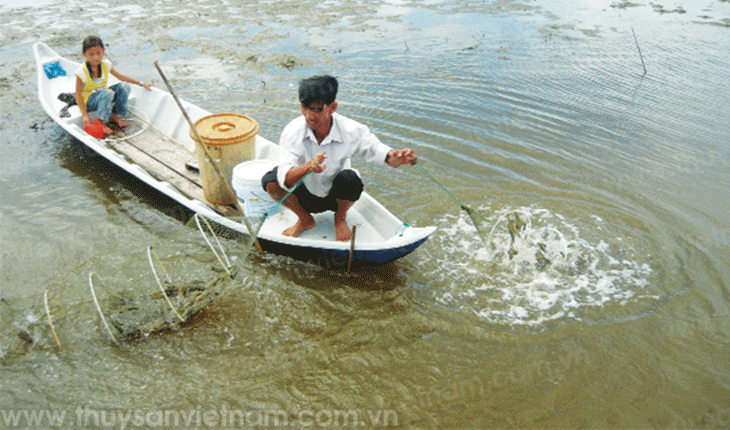 The Mekong Delta is experiencing a devastating drought and salt intrusion. Many palliative measures have been implemented to alleviate the damage and adapt the possible repeat of drought and salt intrusion.
According to experts, it is possible for shrimps to survive at temperatures of 28-300C and salinity of 15 – 25‰; however, severe drought and salt intrusion to hotspots of brackish shrimp farming has broken the perfect condition of shrimp cultivation. Salinity in some shrimp farming coastal areas reaches up to 30‰, resulting in diseases in shrimps. Trà Vinh has 1,470 shrimp farming households in a total of 7,223 ones suffering from losses of 256 million post larvae on the area of 480 hectares. Farm-raised shrimps were found dead at the age of 25-40 days old due to red death and hepatopancreatic necrosis disease. Bến Tre is seeing 722 hectares of giant tiger shrimp farms get impacted.
The acute drought and salt intrusion has resulted in the impossibility of traditional shrimp cultivation with pond and surface water being free of shelter. Thus, the first measure must be stabilizing temperatures of shrimp ponds by installing shelters or membrane houses. Shrimp production facilities can continue their diligent stocking by addressing negative impacts of the weather while small-scale households can use the net system to protect shrimps during the devastating drought and salt intrusion. Huỳnh Thanh Dũng, a shrimp farmer in Vĩnh Thịnh commune, Hoà Bình district, Bạc Liêu province said that the net helped reduce algae which polluted the water, fluctuated the environment and failed the shrimp cultivation.
To stabilize water salinity, farmers should not replace water frequently. Water resources must be cleaned by disciplinary treatment procedures and using probiotics instead of antibiotics. Văn Thanh Giảng, a shrimp farmer in Vịnh Thịnh commune, said that many kinds of toxic algae and germs are generated in water resources in dry season, probiotics would be used to adopt toxic gas in the pond and farmers should not take water from the outside for eliminating impacts of salt intrusion into ponds. Besides, when temperature and salinity are satisfied, farmers must select high quality post larvae in the neighborhood for effective stocking because post larvae produced in the neighborhood can well adapt to the local environment and climate.
Trần Đình Luân, General Director of the Directorate of Fisheries said that farmers must strictly follow technical processes recommended by professional agencies from pond cleaning to post larvae selection to technical appliances so that salt intrusion would be reduced. Environment surveys must be carried out to adopt prompt countermeasures.
VFM