Aquaculture
Aquafeed rise rapidly while the farmers struggle to find output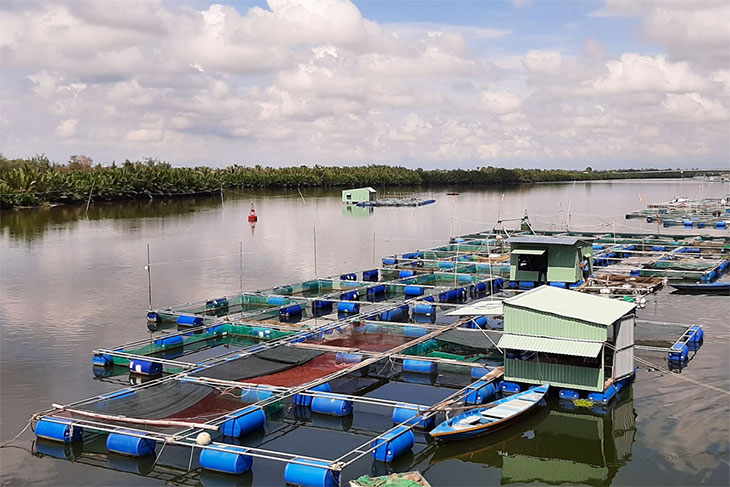 Due to the continuous escalation of the price of aquafeed, along with the complicated developments of Covid-19 affecting the consumption of shrimp and fish, many aquaculture farmers in Nam Định province lost their funds and decided to hang the pond.
Previously, when there was no Covid-19 pandemic, Mr. Hoang Van Minh's family (zone 6, Rạng Đông town, Nghĩa Hưng district, Nam Định province) still kept stable 14 commercial vannamei shrimp ponds, 20 nursery tanks and 14 breeding tanks. Every year, his family earns more than 1 billion VND, after deducting expenses. 
However, from the beginning of the year until now, Mr. Minh's family farm has been forced to reduce the scale of commercial vannamei shrimp farming from 14 ponds to 2 ponds; The system of nursery tanks and grow-out tanks is also shortened. Caused by high food prices, output deadlock; product selling prices fell deeply; funding to maintain the farm is limited.
According to Mr. Minh, currently many restaurants and hotels have to close, temporarily suspend their business, which has caused output to be deadlocked, consumption is slow, prices fluctuate day by day. If every year, size 100 shrimps/kg sells for 120,000 VND/kg, now it's reduced to 70,000 VND/kg, shrimp size 50 pieces/kg sells 200,000-250,000 VND/kg, now it's reduced to 150,000 VND/kg.
Although the selling price fell deeply, there were still no traders coming to buy; Mr. Minh took advantage of all his relationships, called many traders, but no one accepted to buy. Not only that, feed prices increased by 30-40% over the same period last year, which also greatly affected the farm's profit.
"The price of feed is increasing, while the price of commercial shrimp is plummeting without stopping. Even so, shrimp has its own age and if not consumed at its age, shrimp will easily get sick and die", Mr. Minh explained. Currently, in order to maintain the production of 2 ponds, Mr. Minh has to feed the shrimp sparingly and conservatively; reduce the operation of machinery such as effervescent machines, aerators to generate oxygen… in order to limit the increase in electricity bills.
And Mr. Nguyen Van Cuong (Hải Đông commune) who is raising shrimp under the cement tank model also lamented that the price of feed and seed has increased over time; The cost of electricity, medicine… all sky-rocketed. Mr. Cuong said sadly that shrimp prices are falling, if this situation persists, it will be difficult for vannamei shrimp farmers like his family to survive the epidemic.
In the same situation, the family of Mr. Nguyen Van Tung (Xuân Châu commune, Xuân Trường district) is also standing still when the price of caged fish is decreasing day by day. Working with cage fish farming on the Red River for more than 6 years, his family has never been in such a difficult situation as it is now. According to Mr. Tung's calculations, at this time his family has a backlog of about 200 tons of all kinds, which cannot be sold.
Mr. Tung said that his family regularly maintains about 30 fish cages with specialty fish varieties such as trout and crispy carp. In the previous seasons, traders drove trucks to buy all commercial fish with prices from 65,000 – 70,000 VND/kg of halibut, 150,000 – 170,000 VND/kg of crispy carp. But since the beginning of the year, due to the impact of the Covid-19 pandemic, his family has faced many difficulties because of low prices and difficulty in consumption.
"It usually takes 18-24 months to raise a Lentils to the selling age. If sold at the current price of 50,000 VND/kg, a 3 kg salmon will earn 150,000 VND; minus the cost of PLs, food, medicine, etc., my family will suffer a loss of about 60,000 VND/fish", Mr. Tung calculated.
Souce: Tép Bạc