Markets
World-first ASC certification for Vietnamese clam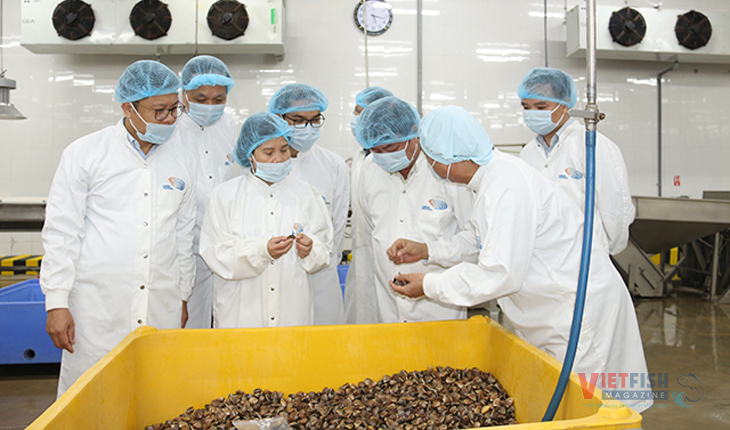 Clam (Meretrix Lyrata) from the northern province of Nam Định, Việt Nam is the the first farmed clam in the world to earn ASC certification.
The Ministry of Agriculture and Rural Development (MARD) and the provincial People's Committee jointly held a ceremony in Nam Định on December 15 to announce the honour.  The clams are raised in a 500-ha farm in Nam Định commune, Nghĩa Hưng district, Nam Định province, with an annual output of 10,000 tonnes.
The winning of the certificate is the result of a project on clam chain connectivity according to ASC implemented by the provincial Department of Agriculture and Rural Development in coordination with Lenger Seafoods Vietnam Co., Ltd, with the support of the International Collaborating Centre for Aquaculture and Fisheries Sustainability (ICAFIS), and the Research Centre for Resources and Rural Development (RECERD.
According to Deputy Minister of Agriculture and Rural Development Phung Duc Tien, the ASC certification will facilitate the export of Vietnamese clams to many countries.
He described the certification as an important premise and a golden opportunity for Vietnam to boost the domestic fishery sector in general, and clam breeding in the country and Nam Định province in particular.
Nam Định still has about 3,000ha of clams, mainly in Giao Thủy and Nghĩa Hưng districts, that would be able to meet ASC requirements, said local authority. The official, therefore, suggested the MARD and relevant agencies continue to develop material areas for clam factories, and work to help the province gain the certificate for other clam farms in the locality.
As of 2019, the total area of clams and mollusks in Vietnam reached some 41,500ha, with an accumulative output of nearly 310,000 tonnes, and export value in 2019 hitting nearly 94 million USD, of which 63 million USD coming from clams. Clam breeding has generated jobs for about 200,000 labourers in localities across the country.
The Vietnamese hard clams have won the taste of consumers in Europe, the US, Japan and the Republic of Korea, among others. The European market alone makes up 52 per cent of Vietnam's total clam export volume.
VFM