Aquaculture
Hà Nam applies the in-pond raceway of freshwater farming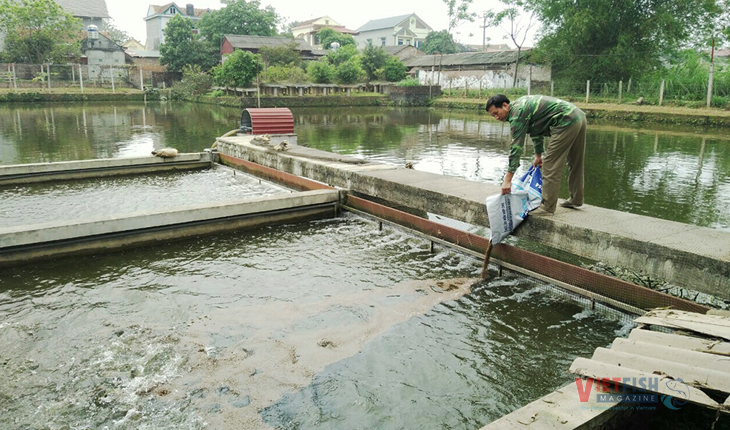 This is a creative aquaculture practice which helps reduce production costs and produces qualified fish products without order as in traditionally farmed fish. Prices must be stabilized, quality must be controlled from production to sales.
Actual application
According to Vũ Duy Hào who directly built the infrastructure of a new technology based fish farm developed by the Hoà Phong Fishery Cooperative. This model is different from traditional farms. With the in-pond raceway model, ponds must be built with concrete, 120cm deep, using stainless steel at two ends of the pond to keep fish because the stocking density is 10-fold increase compared to traditional ponds. A specialized pump continuously transports water to the pond to create a current like a small river so as to create a good living condition for fish. The surrounding of the pond is built with concrete to prevent rain dirt from polluting the water resources that flows to the pond.
The in-pond raceway developed by Nguyễn Đức Kiên, in Thanh Sơn commune of Kim Bảng has proven as an effective economy model though it has just been put into operation recently. Kiên invested into three ponds of white carp, hybrid carp, and all-male tilapia. White carps and carps all weigh up twice. Once 50 count tilapia, they all weigh up 2 count fish. With the same speed of growth, they can be harvested for sales in the next three months when white carps reach 4-4.5kg and tilapia reach 1kg each. More importantly, the in-pond raceway is very clean because discharges are collected and water in ponds is always circulated.
The new in-pond raceway has defeated many farming practices including traditional or industrial practices in ponds or lakes. Farmers can manage the amount of feed, oxygen and water environment. Certainly, the in-pond raceway will bring in remarkable output and quality.
Strengths of the model
The model is highlighted with high productivity, output, economic efficiency, fuel reduction and good management in the farming environment.
The in-pond raceway has necessary factors (output, quality, environment) to create a large amount of products with the same quality. More importantly, this model assures the traceability and development of a supply chain when cooperating with companies in high demand for seafood. However, the application of in-pond raceway has certain limits when some farmers fail to follow required procedures. In particular, they use a water blower instead of an oxygen generator in the pond or stock fish outside the reservoir, resulting in environmental pollution. Purchasing the same size fries is difficult as each pond needs as much as 3.5 tons of fries, more than 1kg each. Thus, all fries must be provided from the same pond.
With expectation and direction of development of the in-pond raceway, the fisheries industry will become the main sector of agricultural development of our country if those advantages are improved.
VFM