Aquaculture
New crop of shrimp in Mekong Delta faces challenges, farmers are concerned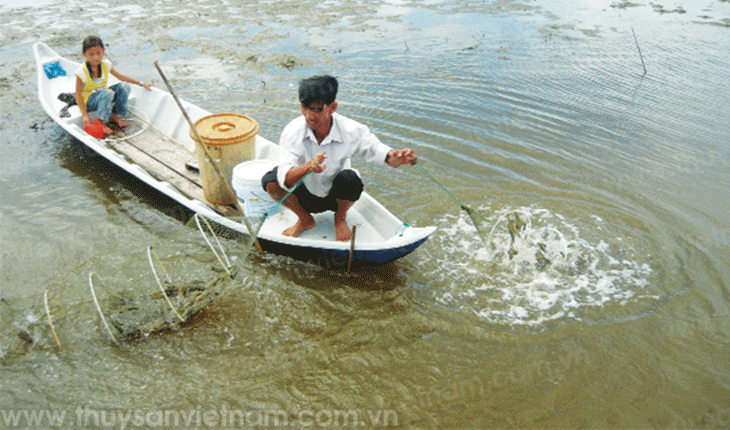 The shrimp exports start recovering after the social distancing due to the covid-19. Nevertheless, farmers are facing challenges from selecting post larvae and feed to the cultivation process and the vagaries of the exporting market.
Farmer Nguyễn Văn Thanh, in Long Điền Đông A commune, Đông Hải district, Bạc Liêu province said "The slump of pangasius prices make me feel concerned because it will happen to shrimp. I've just harvested 5 tons of shrimps which are priced at 90,000 dong/kg. It was 120,000 dong/kg  before".
According to Thanh, the prices of feed increase by 15% every year on average, but prices of shrimp have never recorded such a rise. It is even more and more difficult to culture shrimps.
Many shrimp farming areas in Bạc Liêu and Cà Mau were lost in the early crop in 2020. This was mainly attributed to the extraordinary summer heat and unqualified sources of shrimp broodstock.
Trần Phi Sơn (Long Điền commune, Đông Hải district, Bạc Liêu province) said: "Farmers pay attention to select post larvae because it decides the success or failure of the crop. However, some buy untraceable broodstocks at cheap prices and suffer from loss and pond emptying. Whenever starting a new crop, I have my shrimp sample tested before stocking".
With nearly 200 production facilities which provide the market with around 20 billion post larvae, accounting for 40% of the Mekong Delta's broodstock output and 15% of the whole country, Bạc Liêu is considered the largest broodstock producing center in the Mekong Delta and the country. However, such amounts of post larvae are not enough to cover the total farming area in the province but farmers have to buy from other prefectures in the run-up to a new crop.
The provincial department of Agriculture and Rural development is enhancing the management of production of post larvae and drugs to help farmers recover their production when the covid-19 is brought under control. Remarkably, the examination and control of shrimp broodstock are paid attention to prevent from pathogens that are available in the broodstock source.
VFM