Aquaculture
Phú Yên: Enhance the value chain for lobster products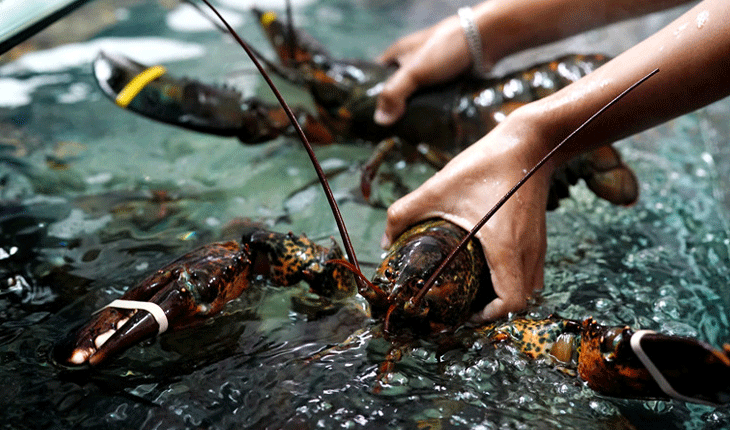 Lobster cooperatives must evolve into a supply chain to create value through cost reduction, quality improvement, brand development, and product diversification.
The Lobster Cooperative of Sông Cầu, in Sông Cầu town of Phú Yên province, was established in early 2023 with seven members. To date, it has attracted another 18 members, with an aim to finalize the supply chain from production to consumption.
Quang, Director of the Sông Cầu Lobster Cooperative, stated that since earlier this year, the cooperative has harvested about 120 tons of lobster, with 30 tons coming from cooperative members. Presently, China is the main destination for the cooperative's lobsters.
Quang explained that due to its recent establishment, the lobster farming has not been stable. Moreover, unpredictable weather conditions have posed challenges for lobster farming, as the percentage of mortality rate is high. The scarcity of lobster post larvae has prevented the cooperative from resuming their ponds this year.
Nguyễn Tri Phương, Deputy Director of the Phú Yên Department of Agriculture and Rural Development, further stated that for a stable market of lobsters, the Institute of Fisheries Economics and Planning (under the Ministry of Agriculture and Rural Development) is developing a project called "Building a value chain in lobster production and consumption." The project operators are encouraging post larvae supplying companies and exporting enterprises with product code to form a complete supply chain in the near future.
Associate Professor Dr. Võ Văn Nha, Deputy Director of the Research Institute for Aquaculture no. III, stated that currently, people predominantly farm two types of lobsters: spiny lobster and green lobster. However, green lobster is more commonly farmed, accounting for over 80% of the total production, as it can be harvested after just 8-10 months of stocking.
Regarding the supply chain from production to consumption, the primary challenge is the lack of area codes for farming. Until now, farmers only knew how to raise and sell lobsters and there was no purchasing unit. According to Associate Professor Dr. Nha, traceability of those lobsters is a must..
Dr. Nha noted that baby lobsters are imported mainly from the Philippines, Indonesia, and Sri Lanka, via a third country, Singapore. Each year, the demand for lobster seedstock ranges from 8 to 10 million pcs; however, about 80 to 90 million baby lobsters are documented each year. This proves a significant loss of baby lobsters during transport and nursery before sales.
Minister of Agriculture and Rural Development Lê Minh Hoan requested the local authority of Sông Cầu town to implement digital transformation in aquaculture. This digital transformation is crucial as it pertains to the market. In particular, the lobster cooperative must evolve into a supply chain to reduce feed costs, enhance product quality, establish a brand, and diversify their product range. Furthermore, in aquaculture, it is essential to protect the environment and regularly monitor environmental conditions to help local residents avoid losses.
VFM