Aquaculture
Shrimp-rice model helps Cà Mau farmers be rich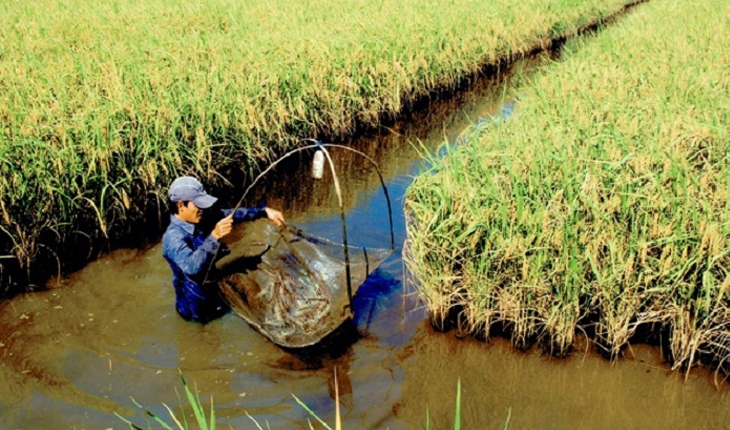 The shrimp-rice model in Cà Mau has been proved to bring in high economic efficiency. As farmers have applied new techniques recently,  planted high quality rice varieties and stocked giant river prawn, their income has been growing.
Farmer Nguyễn Thị Mận, in Khánh Thuận commune of U Minh district, Cà Mau province, has just harvested giant river prawn from the two-hectare farm of shrimp-rice model. Her family annually earned about 60 million dong/ha once, but it is 90 million dong/ha this year. "Abundant crop was attributed to favorable weather conditions", said Mận excitedly.
The culture of giant river prawn in rice field has developed in U Minh district for the last three years. Giant river prawn has been stocked in most of the 3,000-hectare land so far. Farmers had experienced low productivity at first, but after being technically trained with cultivation of all-male giant river prawn, they achieved good results. The average productivity now reaches 200-300 kg/ha. 
Farmers in Cái Nước district has been engaged with the shrimp-rice farming model for almost 20 years. Black tiger shrimp are stocked at the beginning of the year. When June comes and brings heavy rain, they start rehabilitating the soil for rice cultivation. They have stocked giant river prawn in the rice fields for about five years to make more money. Farmers are grouped as Cooperatives that are provided with technical training courses by local authorities.
When farmers take part in Cooperatives, they start their crop at the same time. And as such, the disease outbreak is easily controlled. Besides, they can buy materials or post larvae at cheaper prices. With a huge amount of products, a sales contract can be easily signed. Farmers are shifting to plant high quality rice varieties like ST24 and ST25 which are highly consumed in the market. As products are sold at high prices, farmers can raise their income. Income of members of the Quyết Tiến Agriculture – Seafood and Service Cooperative has largely grown over the last years.
Cà Mau spends nearly 40,000 ha of land on shrimp-rice model, mainly in U Minh, Thời Bình, and Cái Nước districts.
VFM