Aquaculture
Take advantage of magrove-shrimp farming model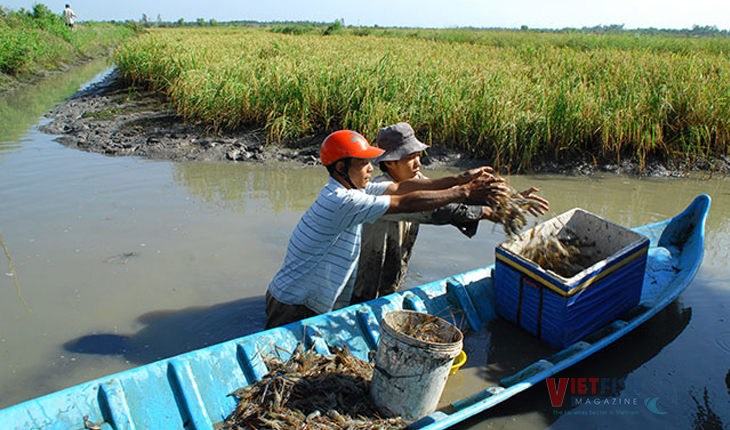 Ngọc Hiển district of Cà Mau province has 4,500 households devoting into mangrove shrimp farming with a total area of 17,805ha and expects to reach 18,81ha.
The achievements in previous years and the first few months of 2020 have proved the sustainability and stability of this model which help reduce massive death of shrimp and brings in an output of 200kg/ha/crop, 20kg more than traditional practices. The mangrove shrimp farming practice helps control pathogens of this species, eliminate disease outbreaks, reduce negative environmental concerns, and adapt to climate change. The district's authority appeals to scientists to research and create a safe farming area, build a strength for a specialized shrimp farming area, and create the main supply chain of black tiger shrimp of the province.
Ngọc Hiển district has advantages of mangrove shrimp cultivation with 23,000ha of surface water and key species, black tiger shrimp. Decreases in white leg shrimp prices and massive death have caused serious difficulties, even losses, to farmers. The sustainable black tiger shrimp model can bring high economic value to farmers. This gives farmers a big advantage.
Lý Hoàng Tiến, Deputy Chairman of People's Committee of Ngọc Hiển said: "The three-year long period of mangrove shrimp cultivation has brought high capacity and output, proving the right direction of development and adaptation to climate change. Most households are excited with this practice, because not only do farm raised shrimps weigh up well but other species such as blood cockle, mud clam, and fish grow steadily, bringing high income".
Farmer Trịnh Hoàng Phi (in Cây Phướng hamlet of Viên An Đông commune) has 5ha of mangrove shrimp farm. In 2019, he earned 200 million dong profit after production costs. In the first few months of 2020 when many local households suffered from damages of conventional shrimp farming practices, his mangrove shrimp farm, which brings 180-200kg/ha per year, wasn't affected. An mangrove shrimp farm costs less feed and investment and makes high profit, according to Phi.
With the strength of aquaculture to create a qualified farming area where high quality shrimps are produced for exports, Ngọc Hiển puts the planning and economic efficiency improvement in the first priority when devoting into mangrove shrimp practices. This is the basis for the district to develop the local economy and raise people's income.
VFM