News
Nutrition in marine culture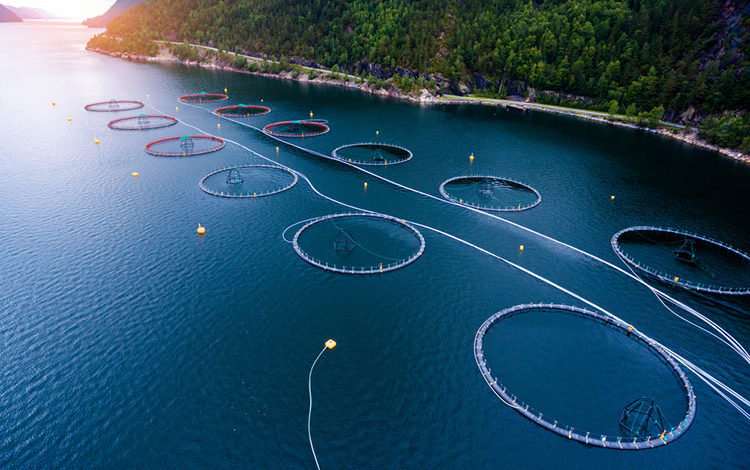 With an aim to develop the marine culture to become a large-scale, effective and sustainable sector, science and technology must be applied into nutrition and feed. It's vital.
How important
Using compound feed in aquaculture, especially marine culture, is essential to bring in high economic value as well as sustainably develop the marine culture sector, contributing to deal with consequences related to the environment and disease outbreaks.
Feed and nutrition for aquatic species account for 35-65% of the total production cost of a crop. Thus, selection and use of feed are one of the most concerned matters so as to meet the animal's requirements for feed. Compound feed has become inevitable amid the low catch of small pelagic fish. The Government's regulations on sizes of the net have been increasingly tight with an aim to protect the marine ecosystem.
According to aquaculturists, farmers have taken advantage of natural feed as the price of industrial feed is much higher than fresh one. However, fresh feed can not provide the fish with enough nutrition and using natural feed can result in scarcity of natural fish, low efficiency, and high production cost due to seasonal changes of the price. Besides, fresh feed is not safe and potential with disease infection from trash fish. The leftover is easy to be dissolved, quickly increasing toxic substances that pollute the water resource and generate disease outbreaks and death.
Compound feed is produced in feed mills. There are two types of compound feed: sinking feed for mollusks and float feed for fish. Industrial feed includes different ingredients such as fish meal, soybean meal, wheat meal, fish oil, vitamins, enzymes, acid amin and minerals. The mixture ratio depends on each growth stage of each species. High quality compound feed is produced with a balanced diet to help shrimp and fish to weigh up well and grow up quickly. Industrial feed provides farmed species with vitamins and minerals that helps improve the digestion, protect the microbiota, increase the resistance, promote the health of farmed species and increase the survival rate. Compound feed consists of attractants to trigger the instinct of fish and shrimp in catching prey so as to reduce the left-over feed. Thus, using compound feed is one of important factors in sustainable development of marine culture, contributing to deal with consequences related to the environment and disease outbreaks in aquaculture, helping utilise the feed in each growth cycle, minimize risks related to environmental pollution and reduce disease outbreaks from the use of fresh feed.
Production of feed for marine culture
According to Lê Văn Khôi, an expert from the Research Institute for Aquaculture no.1 (Ria1), compound feed for commonly farmed species such as seabass, cobia and grouper has been researched since 2010. The researchers have focused on the requirements for nutrition and develop various types of compound feed to suit each growth stage and intake possibility of species. The Ria1 has developed feed for commercial culture of shortfin pompano – (Trachinotus falcatus) with a production chain of 0.5 – 1 ton/turn/hour. The formula of the feed has been commercialized. 
According to the Directorate of Fisheries, the country has more than 404 facilities importing and producing aquatic feed (mixed feed, supplement feed, and ingredients) with about 8,000 products being sold in the market (3,000 kinds of mixed feed, and 5,000 kinds of supplement feed and ingredients). Mixed feed for marine fish is mainly produced by foreign companies such as C.P, Uni-President, Cargill, De Heus, and Skretting. These enterprises account for over 80% of the market share of feed for marine fish in Vietnam. De Heus Company has been researching and giving nutrition solutions to each stage of marine fish, from fires 0.5-20mm to full-grown fish, especially feed for groupers, seabass, pompano, and feed for coldwater fish such as salmon and sturgeon. Besides, De Heus is producing feed for new species with high economic potential such as lobster and sweet snail.
Research units, institutes, and universities of Vietnam are capable of implementing studies related to nutrition and developing feed for marine fish, however they are just implemented in laboratories. The lack of equipment for in-depth research and an experimental system of feed production is one of obstacles for those units to develop commercial industrial feed.
For sustainable development of marine culture, nutrition research and feed production, construction of feed production lounges in association with fisheries logistics, construction of centralized farming areas are one of essential matters. Besides, businesses should be supported to research and develop industrial feed for marine culture. Moreover, technology, equipment and formula of feed should be imported first, and then mastered so that production of feed for fries and commercial culture will be enabled.
Lê Tấn Bản, Director of Khánh Hòa provincial Department of Agriculture and Rural development said that compound feed has more advantages than fresh feed, thus, farmers related to cage farming have been advised to use compound feed, especially in marine culture. However, as for some farmed species and in each growth stage, industrial feed can not absolutely replace natural feed. Thus, in-depth research related to nutrition and feed that suit each farmed species and each growth stage are essential.
So as to produce qualified feed for marine culture, we should diversify materials, improve the efficiency of using ingredients, Khôi said. Besides, we should enhance the efficiency of using compound feed so as to save production cost and raise profits.
Bích Hòa
Hiện, một số công ty đã tham gia sản xuất thức ăn hỗn hợp hoàn chỉnh cho nuôi biển, sản lượng 40.000 – 50.000 tấn/năm. Tuy nhiên, vẫn phải nhập khẩu khoảng 140.000 – 150.000 tấn thức ăn từ Thái Lan, Hồng Kông và Đài Loan.Some companies engage in producing mixed feed for marine culture, 40,000-50,000 tons per year. However, around 140,000-150,000 tons of feed must be imported from Thailand, Hongkong, and Taiwan.
Deputy Minister of MARD Phùng Đức Tiến

Still depend on importation

Farming environment, nutrition, and seeds are the three vital factors for the strategy of aquaculture development and industrial marine culture up to 2030, vision to 2045. However, in our country, feed supply for marine culture has not been developed, resulting in difficulties in controlling the production cost, quality, origin as well as possibility and method of providing feed in the market. Moreover, farmers have a habit of using trash fish as daily feed, causing water pollution and failing to balance the nutrition for each farmed species. Over the last few years, many multinational groups have produced industrial feed for aquaculture, established a market and built production factories in Vietnam. Vietnam has small areas for soybean meal, corn, and fish meal production with lower output than in the US, Canada and Russia. Thus, our country has to import a large volume of ingredients to produce livestock and aquaculture feed every year.