Aquaculture
Trà Vinh expands lucrative high – tech shrimp farming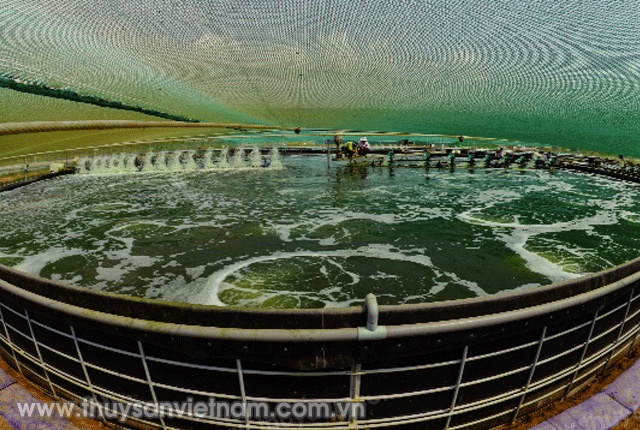 The Mekong Delta province of Trà Vinh is encouraging farmers in coastal areas to expand high – tech shrimp farming by using super – intensive model due to its sustainability and high profits, according to the province's Department of Agriculture and Rural Development.
Under the model, shrimp growing ponds are covered with anti-sun nets and plastic sheets on the bed, and are also equipped with oxygen generating facilities.
Other ponds filter water before releasing it into shrimp growing ponds, while some ponds treat waste water.
In 2017, the province provided the high – tech, intensive model for 110 households who breed a total of 150ha of white – legged shrimp.
The initial cost for investing in one hectare of high – tech shrimp breeding is VNĐ 3 billion (US$130,000) with stock density of 150 – 170 shrimp per square metre.
The farmers had a yield of 50 – 55 tonnes per hectare a crop and earned a profit of VNĐ2 billion ($86,700), 5 – 10 times higher than extensive and semi-intensive shrimp farming models, according to the department.
The province now has 347ha of super-intensive shrimp farms belonging to 300 households.
Phạm Minh Truyền, director of the department, said super-intensive shrimp farming has advantages in high yield and high quality compared to traditional shrimp farming methods.
However, to receive support from the department and localities, farmers have to strictly follow breeding processes to ensure environmental protection, he said.
The department is co-operating with relevant agencies to provide this model to more farmers, he said.
Under the province's agriculture restructuring plan, it will produce more than 70,600 tonnes of shrimp bred in brackish and salty water areas this year and 103,300 tonnes in 2030.
The province had more than 24,000ha of shrimp with an annual output of 35,000 tonnes last year.
The province is also planning to mobilise more than VNĐ5 trillion ($216.5 million) to develop shrimp cultivation, including VNĐ3 trillion for infrastructure like irrigation, road and power facilities.
The infrastructure will help farmers switch from traditional shrimp farming methods to the high-tech, super – intensive farming.
To export to more markets, the province's localities are encouraging farmers to set up co-operatives or co-operative groups to work with companies in shrimp cultivation and consumption.
With a 65km coastline, Trà Vinh has high potential for developing aquaculture, especially shrimp cultivation in brackish and salty water areas. It has a total area of 95,000ha for aquaculture.
VNS