Aquaculture
Success in shrimp culture comes from advanced technology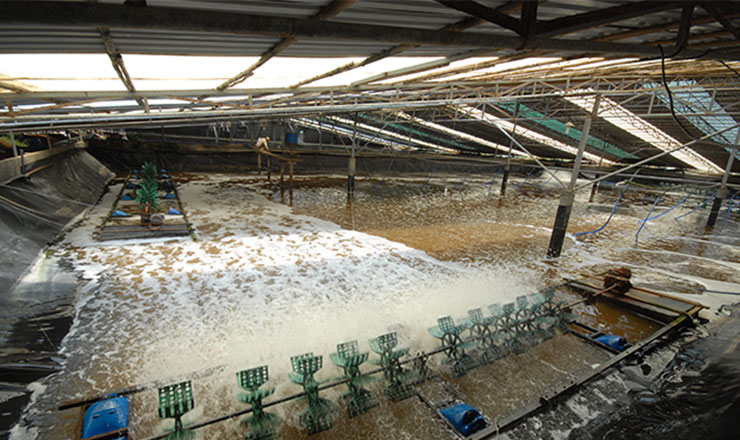 General Director of Vietnam Clean Seafood Corporation (Vina Cleanfood) Võ Văn Phục said the more advanced technology is, the higher success rate is. This is what he sums up from experiences of traditional culture and advanced technology culture.
High efficiency
Nguyễn Anh Tân is the manager of 136-hectare shrimp farm of Vina Cleafood along Mỹ Thanh river of Trần Đề district, SócTrăng province. The farm is scientifically designed with ranges of pond liners and CPF-Combine Model. "Ponds with green and black shelters are newly applied technology by CP Vietnam. Ponds with black shelters alone are equipped with bottom oxygen system to provide further oxygen for shrimps when they are reared in high stocking density".
CPF-Combine Model ponds are possible for stock density of 250 pcs/m2. "We have 102 shrimps sized 31 pcs/kg in this pond", said Tân. Around conventional shrimp ponds where a bunch of workers are preparing for harvest, it is easy to realize that the farming process is similar to CPF-Combine Model ponds. Although these ponds are so big they are all have liners along the edge and at the bottom. The difference between CPF-Combine Model ponds and conventional ones is that the latter does not have shelters above. As many as six-seven workers can pull the mesh up to the ground because this crop is bumper with shrimp size at least 34-35 pcs/kg, according to Tân.
Improve the practice
There are about 70 ponds with CPF-Combine Model by C.P (2,000 – 2,500 m2/pond) and bigger liner ponds where post larvae and feed are provided by C.P under ASC scheme, according to Võ Văn Phục. He said "We are reaping the harvest which is expected to be abundant with 2,000 tons of shrimps. We intend to change ponds into advanced liner ponds, among of which 40-50 round ponds will be used more advanced liner so that production outcomes of shrimps will reach 3,000 tons by 2020".
Phục said that after two years of experiencing liner ponds and conventional ponds, we can affirm that liner ponds bring less risks, even high efficiency with 3-4 crops per year. "With liner at the bottom and shelter above, qualified water treatment system, natural sedimentation and filter, and chlorine usage, water in ponds are clean. Thus, environment of the farming ponds is good and takes less risks of disease outbreak. Shrimp in our ponds stayed healthy while surrounding ponds struggled with white spot disease in recent crops", explained Phục.
Vina Cleanfood set only one target of supplying shrimps to customers when deciding to invest into shrimp farming, so their scale is small. However, once applying advanced technology they realized it was worth to invest into shrimp sector and needs expanding. Vina Cleanfood decided to buy further land to widen its scale and improve the existing ponds with high technology. Phục said "Vina Cleanfood aims at two targets in shrimp farming which are trading and benefits. However, it takes a large sum of money investing into shrimp farming technology, the company is taking step by step to assure the efficiency and capital source".
Necessary and sufficient factors
Phục said "Production outcomes of shrimp farming must increase, and costs must be reduced so that Vietnamese shrimps are competitive enough to manage the difficult markets and bring benefits once markets are stable".
Four factors postlarvae, technology, credit and the Government's policy are necessary and sufficient factors so that farmers and businesses are decisive enough to invest into shrimp farming. Then we can reach the target of shrimp exports worth 10 billion USD by 2025.
VFM