Aquaculture
Trà Vinh: Promote the strength of aquaculture in Cầu Ngang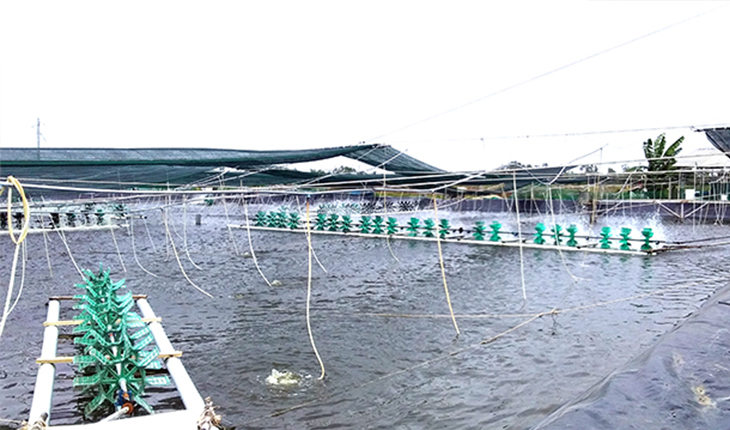 In 2020, despite being affected by drought, saline intrusion as well as COVID-19 disease, the situation of aquaculture and fishing in Cầu Ngang district still develops quite strongly. High-density intensive shrimp farming models are increasingly being expanded in terms of farming areas, contributing to increased harvest yields.
According to the statistics of the agricultural sector of Cầu Ngang district, the total output of aquaculture in 2020 of the district will reach 69,475.6 tons, reaching 101.1% of the plan, an increase of 3,726.5 tons over the same period last year; in which, black tiger shrimp farming with water surface area 2,713 ha, quantity 8,235 tons, average quantity 2.96 tons/ha; vannamei shrimp with a water surface area of ​​4,057 ha, an output of 22,970 tons, an average quantity of 5.43 tons/ha. Particularly, the output of marine exploitation is 28,092 tons, inland exploitation and natural farming are 7,015 tons.
In addition to traditional forms of intensive and semi-intensive shrimp farming, the model of high-density intensive shrimp farming has recently expanded, increasing farming areas and quantity; models of crab and fish farming in rotation or combined with shrimp farming…
Promoting the achieved results, the agricultural sector of Cầu Ngang district will continue to focus on reviewing, adjusting and supplementing the planning for the fisheries sector; to plan shrimp farming areas applying high technology, concentrated production areas and develop intensive and super-intensive farming areas in areas where production conditions are available. In particular, to focus on directing the implementation of developing key shrimp farming areas in the areas of Trà Côn, Đồng Năng, Tầm Vu…
Strive for the area of ​​brackish water aquaculture to reach 9,150 ha; in which, shrimp farming is 8,550 ha, clam is 120 ha, crayfish is 330 ha, and fish of all kinds is 150 ha. The area of ​​super-intensive shrimp farming (on canvas ponds, in round tanks) reaches 10% of the total brackish water shrimp farming area. The area of ​​aquaculture applying good agricultural practice standards (VietGAP, GlobalGAP…) is from 20% or more. The output of brackish water aquaculture reaches 39,500 tons; in which, back tiger shrimp 8,000 tons, vannamei shrimp 27,000 tons, fish 3,000 tons, clam, crayfish, crab and other seafood 1,500 tons.
VFM