Aquaculture
Two-stage shrimp production with high technology achieve 2 or 3-fold efficiency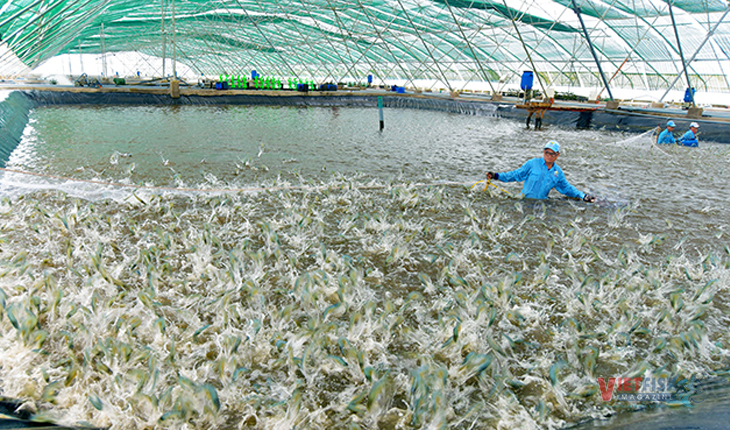 Hi-tech based two-stage shrimp production in super-intensive farms can achieve two or three-fold economic efficiency against conventional methods and are commonly used in Ho Chi Minh city, especially in prefectures with strength of aquaculture such as Nhà Bè and Cần Giờ.
This model is widely applied in Bình Khánh, An Thới Đông, Lý Nhơn, Tam Thôn Hiệp communes of Cần Giờ district and Hiệp Phước commune of Nhà Bè district. Automatic feeders, automatic oxygen filters and pond cleaner systems are used in aquaculture facilities. Some shrimp farmers build pond-liner systems and shelters over the surface or greenhouses to reduce impacts of weather and climate. This direction of development achieves two or three-fold economic efficiency as compared to inland shrimp ponds as it reduces disease outbreak and risks.
Farmer Nguyễn Hoài Nam in Tam Thôn Hiệp commune of Cần Giờ district is applying the two-stage shrimp production system in super- intensive white leg shrimp ponds in a greenhouse. Nam divides the 7,500m2 water surface into three round ponds, with a 3,000m2 main grow-out pond, a 3,000m2 storage pond, and a 1,500m2 nursery pond. Imported post larvae are nursed in 12 or 30 days before being brought to the grow-out pond.
The farming process involves: the first stage with cleaning the farming system to eliminate organic discharge substances, waste water, filtering water, treating water to eliminate clor and killing harmful bacteria, growing microbiology to create floc which helps provide microbiology and enhance vital resistance for shrimps; nursing shrimps from 25-30 days; and the second stage where farmers apply an entirely closed rotation system, rear 30-60 day-old shrimps in a 1,000m2 pond with a stocking density of 200-250 heads/m2.
Before being taken out of ponds, shrimps must be checked for health assurance, quantity, pH degree in grow-out ponds and nursery ponds. Each pond has shelter, mesh, liner at the bottom and all over the side with fish bone shaped plastic pipes being put below to soak water and air out from the pond. With this intensive farming practice, shrimp weigh up 40 pcs/kg after 80 days with productivity reaching 5.5 tons/pond/crop. This practice produces three crops per year, and 33 tons per year from two ponds. With a science and technology based farming model which helps control pond rehabilitation, farming technique, feeding and environmental management, Nam earns more than 10 billion dong profit after 7 crops.
Acknowledging the economic efficiency of the two-stage super-intensive shrimp farming practice over conventional models, the Agriculture Extension Center in Ho Chi Minh city has helped farmers in Cần Giờ, Nhà Bè and Bình Chánh to visit and learn experiences of two-stage super-intensive shrimp farming area in Bình Thuận province.
VFM