Aquaculture
Quảng Ninh: Expect a successful winter crop of shrimp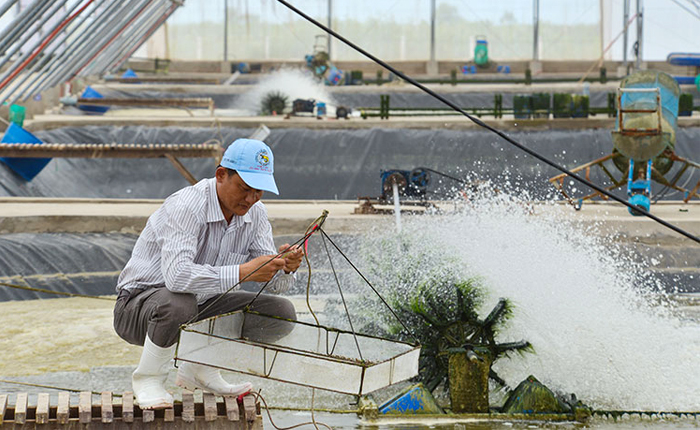 Shrimp farmers in Quảng Ninh are preparing for the winter crop, so-called the third crop, at this time of the year. One of the favorable conditions of this crop is that Viet – Uc Quang Ninh Company (in Tân Lập commune of Đầm Hà district) has just succeeded in producing shrimp broodstocks that can survive the cold and be sold to the market in large quantities.
Being different from normal shrimp broodstocks, those which can tolerate low temperatures are required to adapt to the air, water, temperature, salinity, and pH scale during the harsh and long winter of Quảng Ninh. After a long time of selection, Viet – Uc Quảng Ninh Ltd., Co finally found out a cold-resistant line of shrimp whose dominant genes were then used for breeding. This aims to finalize the production of a shrimp broodstock that can perfectly withstand cold temperatures, survive and weigh up well in the winter, bringing in great success to farmers.
It can be seen that Quảng Ninh has specific characteristics of the Southern mountainous winter; thus, shrimp farming during this season is unsuitable. However, shrimps of the winter crop usually fetch high prices, even twice or three times as much as the previous crops.
Realizing a huge profit, shrimp farmers in Quảng Ninh have tried methods of rearing shrimps in winter; however as ordinary shrimp seeds, which can only tolerate high temperatures, were stocked, shrimp culture in winter costs a fortune and still involves risks.
Thus, the success in producing the cold-resistant line of shrimp that Viet – Uc Quảng Ninh Ltd., Co has achieved, is really meaningful. Farmer Hồ Trọng Đức (in Hải Lạng commune of Tiên Yên district) says "If the cold-resistant line of shrimp produced by Viet – Uc is ready, we will rehabilitate or invest into new ponds to rear shrimp in winter. We believe that this will be a successful crop of the year".
Shrimp is the key farmed species of Quảng Ninh. The province set a target of achieving 25,000 tons of output for the first time in 2022. Nearly 80% has been reached, about 19,000 tons of shrimp, so far. There are three more months to go and the winter crop (October 2022 – January 2023) is expected to produce about 7,000 tons of shrimp.
VFM