Aquaculture
Vĩnh Long: Farmers work together to become a cooperative of eel farming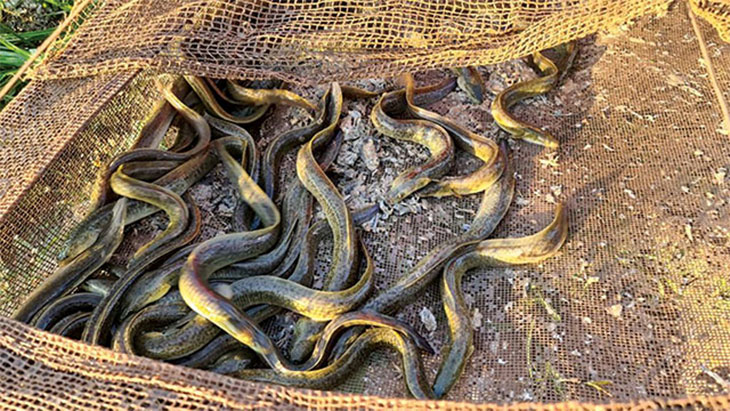 Eel farmers in Mang Thít (Vĩnh Long) have worked together to develop the eel farming sector. The Cooperative has worked effectively since the establishment.
Eel, especially young eel, farming has emerged in Vĩnh Long province recently. Earlier this year, seven farmers in Tân Mỹ hamlet of Chánh An commune, Mang Thít district were supported to establish the Sông Măng Vĩnh Long Hitech Eel production and consumption Cooperative. This is the first cooperative related to eel farming in Mang Thít district of Vĩnh Long province.
The newly established cooperative has operated effectively and provided members with stable income. Before that, those farmers had worked together to form a supply chain for stable production for over a year.
For effective performance of members, the establishment of this Cooperative was consulted by the Vĩnh Long Cooperative Union. Accordingly, the Vĩnh Long Cooperative Union provided the Management Board and the Board of Directors of the Cooperative with training courses related to the performance.
Accordingly, members stocked and nursed fingerlings until they weigh up to become juveline eels of all sizes so that the Cooperative can provide the market. Prices are different, depending on sizes and ranging between 2.500 and 5,000 VND per one. The Cooperative has sold over 200 thousand juveline eels per month, bringing at least 20 million VND to each household. 
Phạm Hoàng Minh, Chairman of the Board of Management and Director of the Sông Măng Vĩnh Long Cooperative, had been once a farmer related to dragon fruit cultivation for years. Three years ago, he started to learn the fisheries industry amidst the fluctuating market of dragon fruit. Being aware of the scarcity of juveline eel providers, he invested and learnt farming techniques. 
He faced lots of difficulties in the first year. He lost five billion dong when eels caught up with diseases and died; however, it did not make him give up. After studying and experimenting, he finally was successful and shared experiences with other members.
Minh did not abuse antibiotics during the farming. Instead, he used herbal medicines; thus, eels are healthy and credible to customers.
He said that the Cooperative's members will rear eels with a production cost of 1.000 vnd/head. Broodstock eels size 1,000 pcs/kg are delivered to members who will take care of them until they weigh up to the size 500 pcs/kg. Each member provides the Cooperative with around 30,000 eels on average and earns about 20 million dong after production cost and mortality.
VFM