Aquaculture
Visiting Cà Mau to enjoy the strangest fish in the world which can climb and run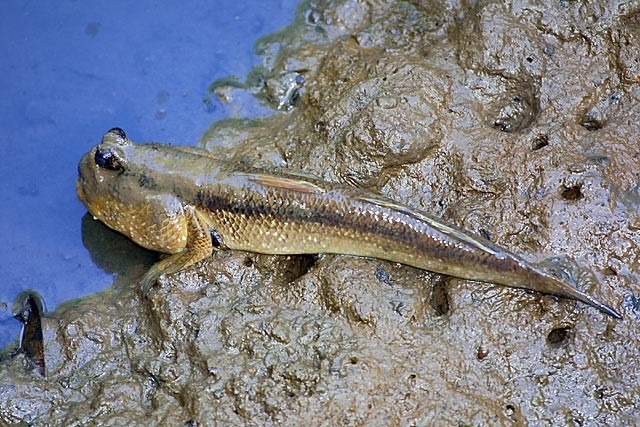 Listed in the Top six "strangest animals on earth", Mudhopper is found in Vietnam in large quantities, but those in Cà Mau tidal mudflat are the most tasteful. This strange fish has become an icon of Cà Mau National Garden.
Mudhopper is tight and sweet and can be cooked in many recipes with much more tasteful flavor than ordinary freshwater fishes. Mudhopper is fried with chili salt and braised with pepper in Cà Mau.
The mudhopper has to be caught from the saltwater marshland, 100gr each at least. The 300gr fish is the best and only available in the Đất Mũi area.
The mudhopper can swim and run on the mud surface. Inhabiting nature and knowing how to swim, crawl, walk, climb, dig caves, and jump over 60cm, mudhopper's body is really tight. As the meat is tight, soft, sweet and tasteful, mudhopper has become one of the best delicacies of the Đất Mũi area.
So as to introduce mudhopper to remote customers, local farmers are making a special recipe, dried mudhopper. However, as much as 4-5kg of fresh mudhopper must be used to make 1kg of dried mudhopper which costs 500,000-600,000 dong.
About a decade back, it was easy to buy some kilograms of mudhopper size 300gr. But it is more difficult today as this species is born in nature and artificial breeding has not been carried out. Moreover, not only has this species become a delicacy of Cà Mau or the Southwest but also it is a specialty in restaurants of other provinces. Due to overfishing, the number of natural mudhopper has reduced sharply.
Thus, in 2020, People's Committee of Ngọc Hiển district proposed the provincial Department of Science and Technology to study the solutions to the application of technology with an aim to restore, preserve, and develop the resource of mudhopper in the face of overfishing.
The proposal aimed to determine the practical and scientific basis to build a process of commercial farming and production of mudhopper so that the resource of this species would be restored, preserved and developed in Cà Mau and other provinces in the Mekong Delta with the same ecological conditions.
Phan Tấn Thanh, Director of the Cà Mau provincial Department of Science and Technology said: "The Ministry of Science and Technology has approved and chaired the project of restoring, preserving, and developing the mudhopper resource in the province. The Ministry is finalizing the papers and directly signing an agreement with the Institute for Aquaculture of Nha Trang for the deployment. After succeeding in artificial breeding of mudhopper, the Institute will set up an experiment in Cà Mau province and transfer the technology to the province".
VFM