Aquaculture
Bình Thuận: Model for coastal farming of snub-nose pompano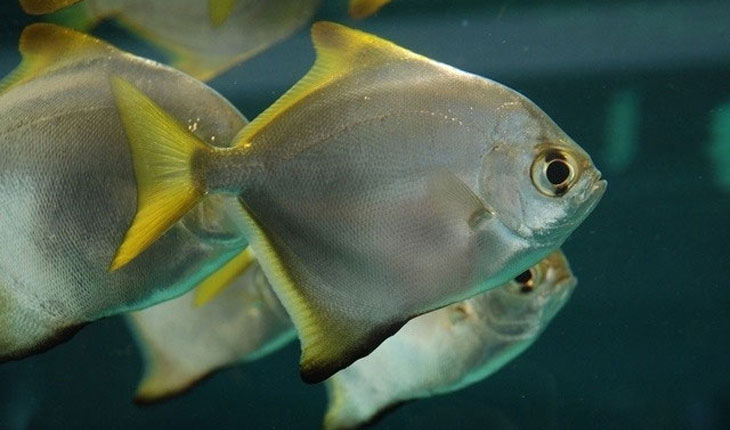 The Center for Agricultural Technology and Services of Hàm Thuận Nam district (Bình Thuận) has recently implemented a model for commercial farming of snub-nose pompano (Trachinotus blochii) in earthen ponds in Thanh Phong village, Tân Thuận commune. 
According to the Center, this area has some advantages such as loam soil, indefinite water source, suitable environmental parameters such as temperature 26-32 °C, salinity 15-25 ppt, dissolved oxygen, water pH. A drained pond with an area of 3,800 m2 is used. Then drying out the bottom pond for 1-2 weeks and liming the entire pond (1,500 kg/ha); water is pumped into the pond through a mesh to prevent organisms; the water level should be about 1.2-1.5 m. Subsequently, 3,800 fingerlings were stocked at a density of 1 post larvae/m2; all of them are of uniform size and healthy. 
Fish food is floating industrial pellets, containing 38% protein. Fish should be fed twice a day; the ponds need to be monthly fertilized with Bacillus subtilis microbiology to limit pollution. During the rearing process, the Center also monthly exchanges 20-30% of pond water, checks the growth rate and disease of fish to take measures, and adjust the feed appropriately. However, snub-nose pompano rarely catch diseases in the process of growth.
The survival rate is 80%; the average fish weight is 700 grams/piece after 8 months of farming. Farmers can gain a profit of nearly 50 million VND/crop with a price of 120,000 VND/kg. In the context of the COVID-19 pandemic, the price of snub-nose pompano is in the range of 120,000 – 140,000 VND/kg and 150,000 – 180,000 VND/kg for exports.
The model for commercial farming of snub-nose pompano brings high economic efficiency; the success of this one can contribute to the change of old cultivation methods and shrimp-crab rotation crop to limit disease risks towards sustainable farming. Additionally, farmers can increase their incomes thanks to this model. At the same time, in water-polluted locations, raising snub-nose pompano in earthen ponds can be a feasible solution to improve the farming area environment in Hàm Thuận Nam district.
The agriculture sector recommends that farmers who are having vulnerable shrimp farming areas should gradually convert to snub-nose pompano because the latter has higher economic efficiency and less disease-caught.
VFM