Environment
600-year-old seafood market along the breakwater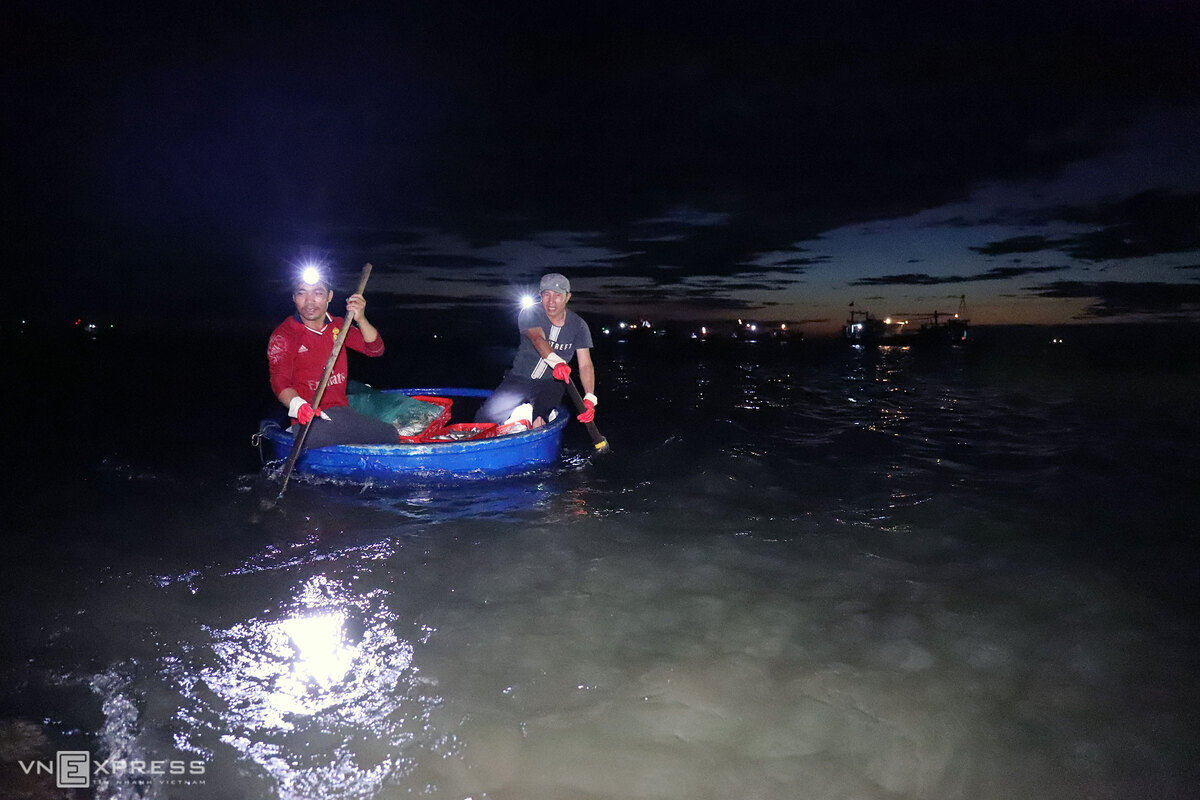 Tens of fishing boats depart and arrive at the Cồn Gò seafood market all day and night in Cẩm Nhượng commune, Cẩm Xuyên district, Hà Tĩnh.
The Cồn Gò market is 600 years old and sells fresh seafood to local people and tourists. Fishing boats go further to the sea in the afternoon and come back to dock 300m away from the seashore at 4 a.m in the next morning. Unable to dock on the seashore, seafood has to be put in baskets which then will be transported by coracles to the shore and brought to the market by the side the breakwater.
Traders and families of the boat owners, who are waiting along the shore, pull them in and pour seafood into tarpaulins at the center of the breakwater.
Around 200 people come here to buy and trade every day. Seafood is washed at the seashore after being brought off the coracles and before being sold to traders or customers.
The Cồn Gò market is full of fresh seafood such as cuttlefish, shrimp, crab, pompano, anchovy, and sentinel crab that are all put in plastic baskets or laid out in the tarpaulin so that customers can easily select what they want.
"I can sell around 50 kg of fresh cuttlefish, earning 500,000 dong after cost", said one of the traders in Cồn Gò market.
Seafood in the Cồn Gò market is well known for being fresh and variable. According to local fishermen, Cẩm Xuyên district has many small islands and underground cliffs where produce shrimp with different taste.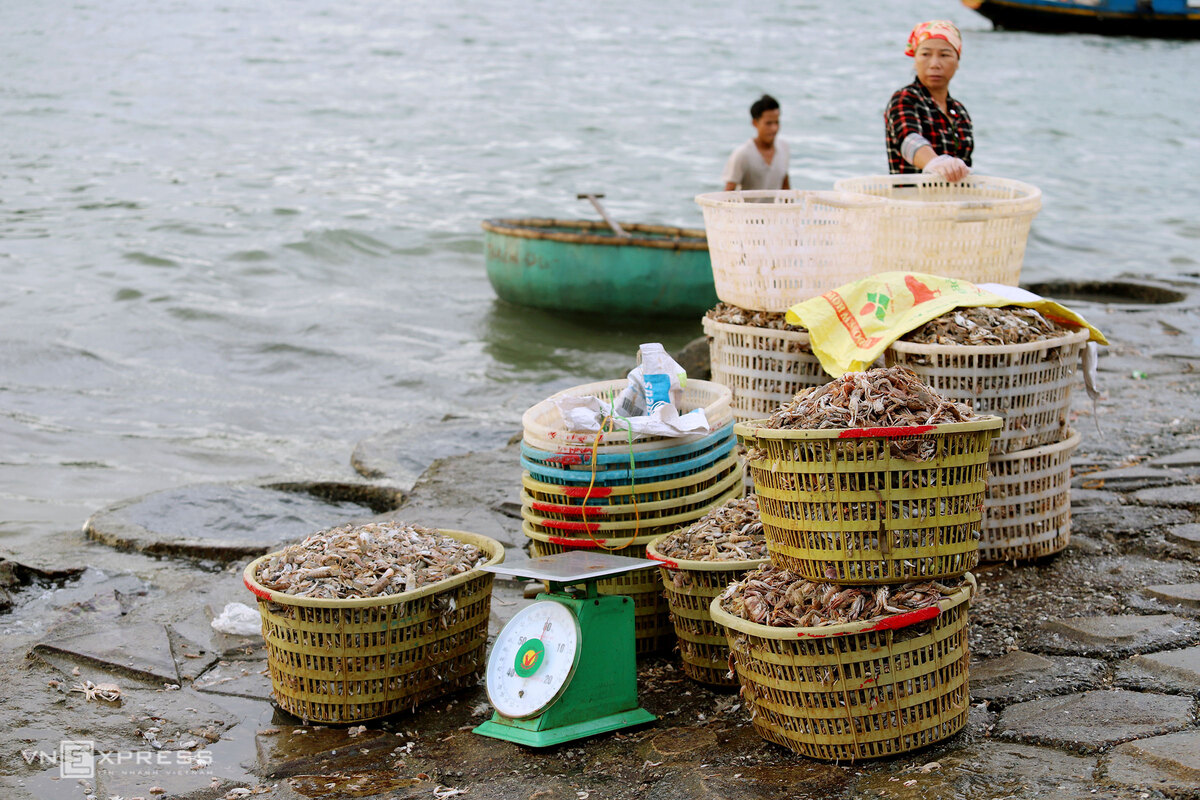 June is the month of mantis shrimp. Fishermen can catch around 300 kg in one trip this month to sell to traders who then distribute to restaurants in Hà Tĩnh or transport to southern provinces.
Mantis shrimps are sold at 50,000 dong/kg. They are caught together with crab and sentinel crab. Trader Trần Thị Nguyệt, 42, in Cẩm Nhượng commune, said that "I wake up at 3 am every day to come here and wait for boats coming back. To buy the most delicious seafood, I have to see the boat owner when he brings them to the shore and talk to him about pegging. If I hesitate, I will lose to another trader immediately."
The Cồn Gò market is 2 km away from the Thiên Cầm beach resort where tourists are offered free trips to the seafood market by electric cars, 5-7 people on each. Tourists come here not only to buy seafood but also to capture a photo of the busy market.
"I am fond of cuttlefish and shrimp here and usually buy 5-7 kg home to cook or give to my friends as gifts", a tourist from Thanh Hoá said.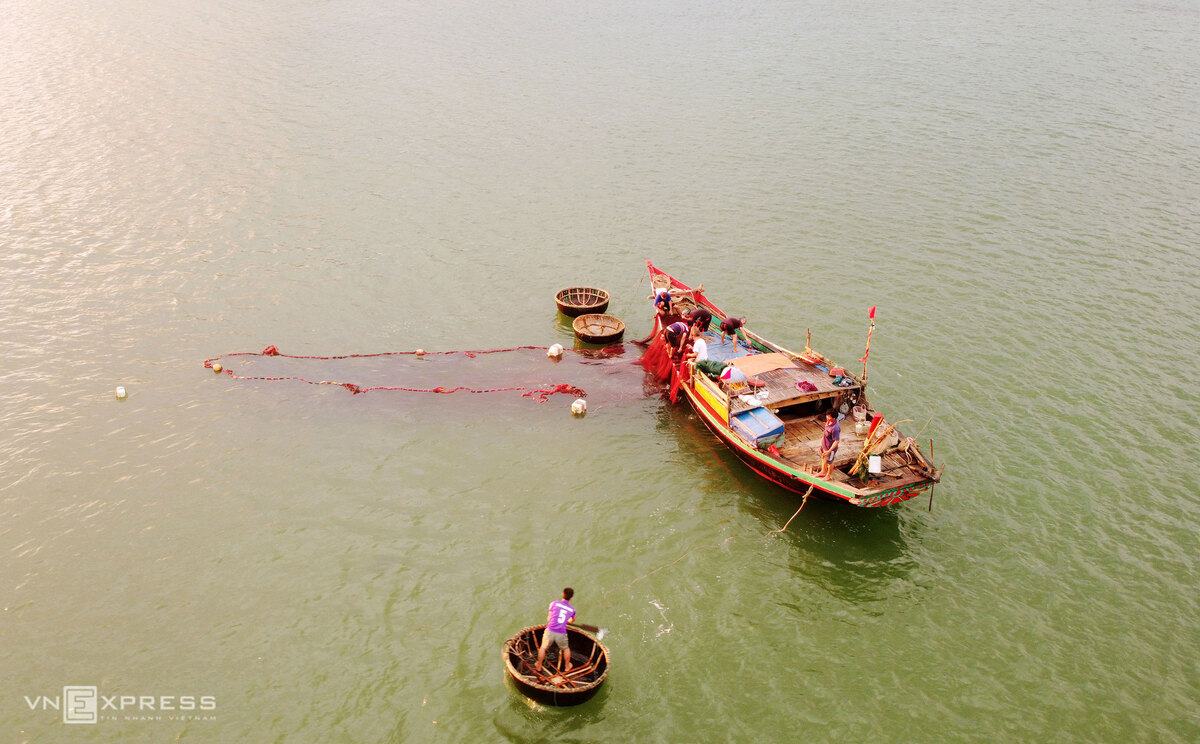 The Cồn Gò market comes back to its stillness from 6 a.m when the sun goes up. Traders drive to retailing markets, fishermen gather their fishing tools to prepare for another trip at 3 p.m.
The Cồn Gò market started 600 years ago after Nhượng Bạn Village was established, it's Cẩm Nhượng commune now. The old market had been placed on a sand drift near the sea which disappeared due to the erosion. Fishermen had to move to gather in a 1km breakwater along the commune.
Many water jars were placed at the breakwater so that fishermen can wash seafood after taking them out from coracles. Now they wash them with sea water but water jars are kept there and become a specific feature of the Cồn Gò market. After the 1.4km long Cửa Nhượng bridge, which is 1km away to the south and connects Cẩm Nhượng and Cẩm Lĩnh communes, was open in 2014, people can go to Cồn Gò more easily instead of taking much time going around to the market as before.
VFM