Environment
Minister of Agriculture and Rural Development offers suggestions for sustainable seafood export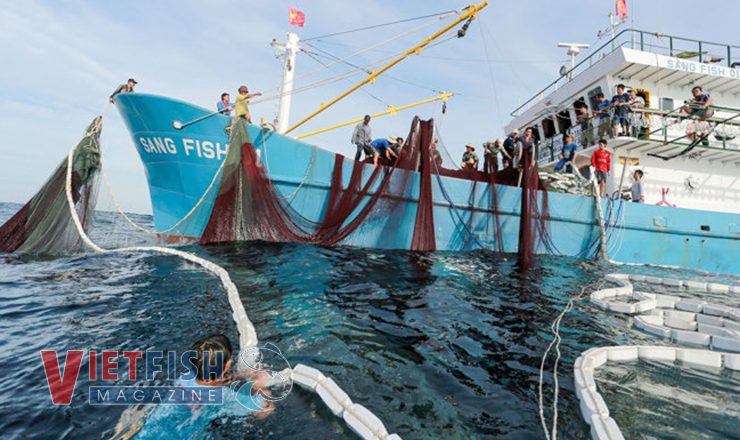 Minister of Agriculture and Rural Development said the only way for sustainable seafood export was to continue restructuring agriculture industry with specific range of commodities.
Vietnam has given solutions, at the Government's disposal with the approval of the new Fishery Law. The Government ordered the issuance of two decrees and eight circulars of which farmers and fishermen of 28 coastal provinces are already informed. This has resulted in Vietnamese fishermen terminating their contravention of exploitation regulations in Pacific Ocean for the last two years."And yet, some contravention cases in the south derived from objective reasons with unclear maritime boundary and subjective reasons where fishermen committed to contravention on purpose", said Minister Nguyễn Xuân Cường.
For sustainable aquaculture exports, Minister offered his suggestion of fulfilling nine recommendations by EU. Although Vietnam's direction of aquaculture development is quite good, Government institutions need to pay further attention to restructuring, especially firm production link.
Besides, Vietnam should constantly be concerned with marine aquaculture. Norway and Vietnam have approved a strategic cooperation to boost the offshore aquaculture through advanced technology for sustainability assurance.
Give solutions to Vietnamese fishermen being arrested in undefined sea border
Deputy Prime Minister Phạm Bình Minh finds it extremely important to protect fishermen and says it is responsibility of Government institutions to keep Vietnamese fishermen safe when they exploit fishes in Vietnam's sea border.
In his opinion, Vietnam determines to protect fishermen from being arrested by foreign authorities when their boats operate in thelegal water area.Vietnam has been fighting against countries for arresting Vietnamese fishermen and required them to release our men and compensate for damage if any.
There are some cases when fishermen were arrested in undefined sea border, between Vietnam and Indonesia in particular. Minister of Foreign Affairs met and stated hisobjection to this matter with Indonesia Ambassador in Vietnam and his counterpart in Indonesia and requested for prompt release and compensation.
However, there are sometimes Vietnamese fishermen were arrested for their foreign water intrusion. The Vietnam's Government then visited the Consul and asked for humane gestures, reasonable settlement and release of men and their boats. On the other hands, fishermen should be educated for respecting international law and exploitation can be carried outin Vietnam's sea border only and fishermen would be protected by the Government when they are arrested.
VFM