Fisheries
Fuel price hiked, 50% fishing vessels stay idle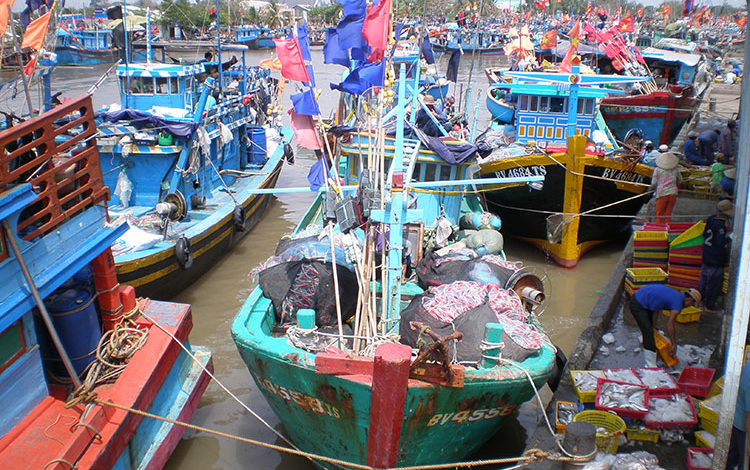 Bạc Liêu's fisheries sector is sharply developing, with over 100,000 tons of seafood being caught on average every year. However, the surges in fuel prices have seriously affected the fishing activities of Bạc Liêu fishermen.
The fuel price hiked again and reached a new peak in the last ten years, leaving damaging consequences in fishing activities and aquaculture suffered by farmers of Đông Hải district which is the busiest area with seafood exploitation in Bạc Liêu.
Fishing vessels have had to stay idle because they suffered from losses after every trip to the ocean. Fisherman Đặng Quốc Thùy, in Gành Hào town of Đông Hải district, Bạc Liêu province said that the surge of fuel price seriously has affected the operation of fishing boats. A fishing boat cost 100 million once, but it is 200 million now. The exploitation is difficult due to the decreasing source of natural fish and shrimp. Fisherman Liên Văn Lợi in Gành Hào town of Đông Hải district shared that fuel prices and freight charges rose continuously but fish and seafood prices stayed the same, making fishermen suffer from losses. Lợi is looking forward to prompt solutions given by leaders so that fishermen can set forth to the ocean; or else they have to continue staying idle.
Seafood exploitation is one of the economic advantages of Đông Hải district and brings high income to local fishermen. However, according to the Đông Hải district Agriculture and Rural Development Office, when fuel price hiked, nearly 50% of fishing boats had to stay idle to wait for a decrease. Some fishermen who kept going to the sea had to accept losses.
VFM