Fisheries
Khánh Hòa: Taking worry out of storms with improved HPDE cages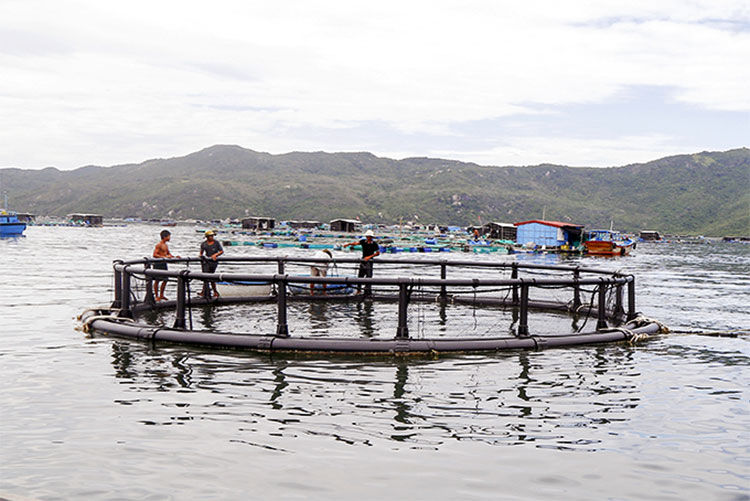 Households related to marine aquaculture in Khánh Hòa are aware of Norwegian-style HDPE round cages which are used instead of traditional cages and help them deal with storms.
Since the storm no.12 caused devastating damages to farming cages in Khánh Hòa, the National Center of Agriculture Extension has supported the province to carry out the project "Build the marine aquaculture model of cobia with Norwegian-style HDPE round cages".
The project was launched in 2020 and will end in 2022, with a total of six HDPE cages being installed. One cage was installed in 2020, two cages were installed in 2021 and three cages were built in 2022. The project aims to help farmers in Vân Phong bay and Khánh Hòa province to change traditional wooden cages into HDPE cages.
Farmer Nguyễn Xuân Hòa, who has been devoted himself in the aquaculture sector for twenty years, in Vạn Giã town of Vạn Ninh spent 30% of the reciprocal capital on experimenting cobia culture in HDPE round cages in 2020. He has harvested two crops of cobia so far. He stocked 1,000 cobia in the first crop and harvested 903 pcs, 5kg each, after seven months. However, due to the Covid-19 pandemic, cobia was sold at 130,000 vnd/kg and he earned around VND 100 million after profit. In the second crop, he stocked 3,000 pcs and harvested six tons of cobia at the end of 2021 when they were sold at 120,000 vnd/kg, making him earn VND 130 million. It is the third crop and he stocked 4,000 cobia which have been weighing up well.
In Hòa's opinion, the clear HDPE round cages have enabled the fish to grow and weigh up well with the survival rate of 80-90%, showing a 15-20% higher rate than traditional cages. Especially, rearing 3,000 fish in wooden cages requires four workers to take care of; but the HDPE requires only two workers.
Hòa said that HDPE round cages are different from traditional wooden or bamboo cages (size 4x4m) as they are round and have a diameter of 10m and a volume 500 m3 each. Farmers can easily stand on and move around the round cage which can load up to 30 people. Remarkably, the high-density polyethylene cages are not rusted and their high plasticity prevents them from being broken in a collision with rough or curvy terrain. Those made-in-Vietnam cages are sold at VND 180 million, half as much as the one imported from Norway.
Director of the Khánh Hòa provincial Center of Agriculture Extension Huỳnh Kim Khánh said that HDPE cages have brought real efficiency since they were installed. Besides environmental protection and reduction of deforestation for the purpose of making wooden cages, HDPE round cages help farmers to deal with natural disasters and stop worrying about disastrous storms. Moreover, the clear HDPE cages enable the farmed fish to weigh up well, reduce disease outbreaks, and increase productivity.
In Khánh's opinion, a wooden cage can produce less than 10kg of fish per m3; but a HDPE cage can produce at least 15kg of fish per m3. Moreover, the duration of a HDPE cage is longer than a wooden one and production cost for a HDPE cage is cheaper than the latter.
A wooden cage, size 4x4x5m and volume of 80m3, costs VND 10 million and has a longevity of 5 years. A HDPE round cage, diameter of 10m, volume of 500m3 (equal to five wooden cages) has a longevity of 20-30 years.
Cages imported from Norway are so expensive that farmers can not afford them. Thus, Vietnam's enterprises have researched and changed proper materials so as to produce HDPE cages with prices being half as much as imported ones. With the longevity of more than 20 years, HDPE cages can shorten the payback period to three years in case of effective farming.
Khánh said that the effective HDPE around cages have attracted marine aquaculture farmers in Vân Phong bay. As many as 30 HDPE cages have been multiplied, stretching beyond expectation from the project.
VFM