Fisheries
Marine exploitation is favorable, market starts expanding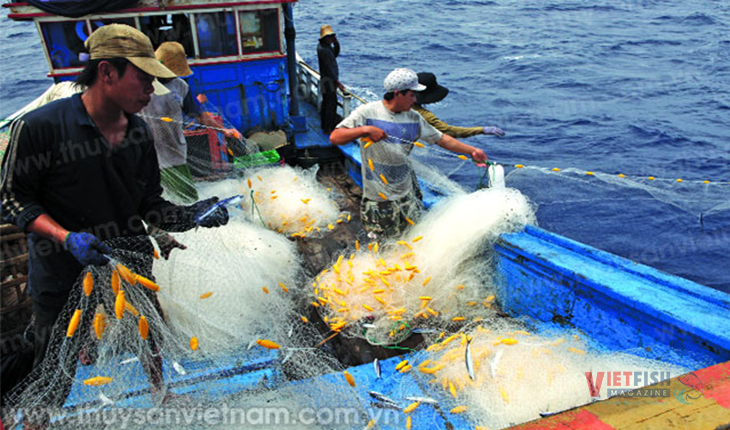 According to the Directorate of Fisheries, the marine exploitation sector has obtained recognizable achievements regardless of severe difficulties.
On May 16, the Ministry of Agriculture and Rural development cooperated with Phú Yên provincial People's Committee to hold a conference to discuss the solutions to improvement of marine exploitation, processing and consumption in 2020 amid the covid-19 affection.
From October 2019 to April 2020, the weather was favorable to marine exploitation and plenty of small pelagic fish came to fishing grounds in the North Central and South East. Moreover, a slump in fuel prices helped curtail the production cost. "The accumulated output after four months of 2020 reached 1.18 million tons, up 0.8% from last year with captured species output being 1.13 million tons, up 0.8%", said Nguyễn Văn Trung, Director of Department of Capture Fisheries under the Directorate of Fisheries.
However, in the Quarter I of 2020, Vietnam brought in $658.6 million from seafood exports, down 6.6% from last year, with tuna decreasing by 10%, octopus and cuttlefish decreasing by 24%, other marine species decreasing by 0.8%, mollusc decreasing by 4%; only crab, sentinel crab and other exported crustacean sharply increasing by 33%.
It's not so sad, because Deputy Prime Minister Phùng Đức Tiến said that marine exports have a lot of opportunities ahead. "The coronavirus pandemic has badly affected the supply chain in the worldwide countries, including Vietnam. However, requirements in food given by the Congress and Government have been satisfied. Seafood products alone, thế Minister of Agriculture and Rural development promptly carried out two conferences of pangasius, shrimp, and now another one of seafood products after the social distancing is eased in some countries. The conference pointed out clearly that there were opportunities among difficulties. In particular, the coronavirus pandemic has subsided in China, the biggest destination of Vietnam's seafood. The US, German and some European countries are reactivated, paving an opportunity for Vietnam's exports. Meanwhile, the covid-19 has weakened the production and exports in some countries, which may create a chance for Vietnam's seafood exports".
VFM