Markets
After two years of stagnant business, sales of shrimp to Japan increase sharply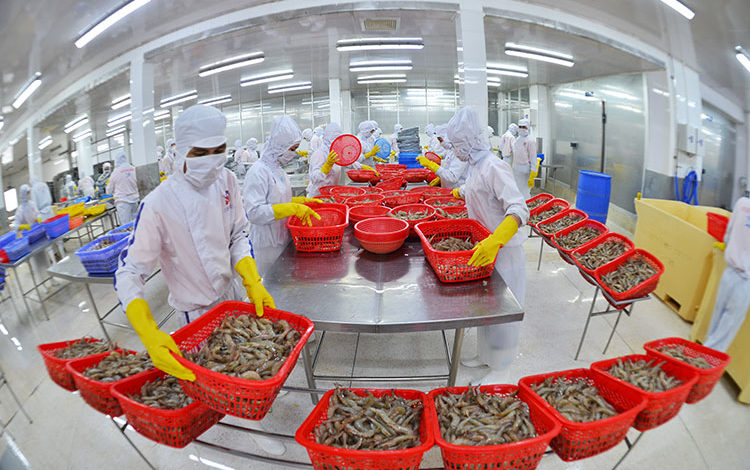 Shrimp exports to the Japanese market have shown positive signs since March 2022, resulting in a sharp increase in market share of Vietnamese shrimp in this country.
According to statistics by the General Department of Vietnam Customs, noticeable sales of Vietnamese shrimp was recorded in Japan in the first months of 2022. As of mid-March, Vietnam saw a worth of USD 113 million of shrimp export value, up 21% from the same period last year.
In March 2022, as many as 67 Vietnamese enterprises had opportunities to boost their exportation to Japan, mainly frozen breaded shrimp, frozen steamed tiger shrimp, breaded torpedo shrimp, and frozen PDTO Nobashi white leg shrimp.
This is such a good sign after two years of stagnant business of seafood exports and shrimp sales to Japan, even a year-on-year reduction. Particularly, shrimp export value to Japan was recorded to be more than USD 613 million in 2020, down 0.9% from the previous year, and it was USD 578 million in 2021, down 6% from 2020. 
According to VASEP, after the US, Japan is the second biggest importer of Vietnamese shrimp, accounting for around 15% of the export density of Vietnam. According to the International Trade Center (ITC), Japan has proved itself as a potential market when importing a worth of USD 176 million of shrimp, up 11% from the same period of 2021. Among shrimp providers to Japan, Vietnam ranks in the top three biggest countries (including Vietnam, Indonesia, and Thailand).
Vietnam and Japan have entered into four free trade agreements: VJEPA, RCEP, AJCEP and CPTPP. In 2021, the imported shrimp value to Japan reached USD 2.3 billion, up 6% from 2020 and Vietnam ranked in the top five biggest shrimp providers this year (including Vietnam, Indonesia, India, Thailand, and Argentina). Vietnam was the biggest shrimp provider to Japan with 24% of the market share, Indonesia and India accounted for 16% of the market share, and Argentina accounted for 7% of the market share.
VFM