Markets
Businesses saw breakthrough in exporting seafood in the first half year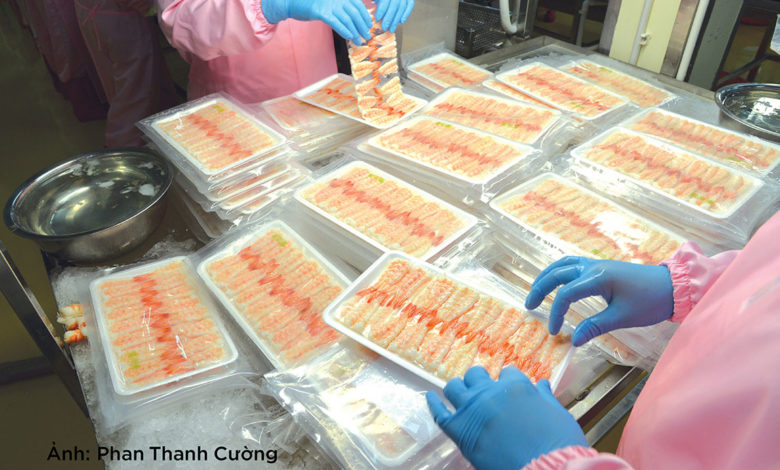 In the first half of the year, the seafood export sector showed records in revenue and growth as compared to the same period of previous years. A total of USD 5.7 billion worth of foreign exchange was recorded, up nearly 40% from the same period last year. Pangasius exports brought in USD 1.4 billion revenue, up 82% while shrimp exports achieved nearly USD 2.3 billion. Despite the lack of material, seafood exports remained the growth of 12-55% as compared to the same period, bringing in over USD 2 billion.
Regardless of increase in production costs and inflation, seafood processing and exporting companies have seized opportunities in markets of huge demand such as the US, EU, China, Japan, Korea and Australia, and other potential markets.
Lots of companies represented breakthroughs in the first half of the year, mainly related to the pangasius sector. Vinh Hoan Corporation ranked the first over nearly 900 seafood exporting companies, with revenue reaching more than USD 226 million, up 82% from the same period last year.
The market fluctuation in 2022 including inflation and strikes between Russia and Ukraine paved a way for Vietnam to boost sales of pangasius. Pangasius is a replacement for pollock and cod in some big markets.
Other pangasius companies showed good growth in revenue such as Bien Dong Seafood with 14%, ID with 86%, NAVICO with 41%, Van Duc Tien Giang with nearly 61%, Dai Thanh Tien Giang with 118%, and NTFS with 87%.
Soc Trang Seafood Joint Stock Company (STAPIMEX) ranked the first over shrimp exporters and ranked the second over seafood exporters with export value of USD 188 million, up nearly 25% from the same period last year. Minh Phu Corporation ranked the third with revenue slightly increasing by 6%; however Minh Phu – Hau Giang represented a 30% increase. Other shrimp companies showed good growth such as CASES with 47%, Sao Ta with 18%, Thuan Phuoc with 13%, and Tai Kinh Anh with 73%. 
Remarkably, Anh Nhan Trading and Production One Member Ltd., Co reached a fivefold increase in revenue as compared to the same period last year.
Seafood companies have been mounting an effort and achieved better results than the previous year. Tuna companies such as Hai Long Nha Trang, Binh Dinh Seafood, and Hai Vuong (HAVUCO) respectively showed 58%, 33% and 144% increase in revenue as compared to the same period last year. Tin Thinh's revenue was twice as much as the same period last year. Other seafood companies enjoyed sharp increases in sales such as Nha Trang Seafood F17 with 34% and Hai Nam with 67%.
In the second half of 2022, raw material of shrimp and seafood will be a challenge and demand in big markets will fall. However, with the efforts and flexibility of Vietnam's seafood companies, the USD 10 billion worth of revenue will be within the reach of Vietnam.
VFM