Markets
Develop the market of clam and oyster in northern coastal provinces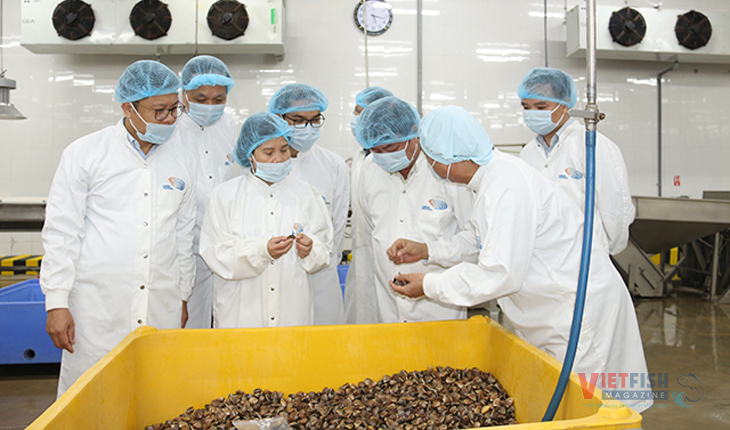 Clam and oyster in particular and mollusks in general are demonstrating a huge potential in the new era of the agriculture industry.
On November 28, the Ministry of Agriculture and Rural Development held a forum "Develop the market of clam and oyster in northern coastal provinces" in Thái Bình.
Deputy Minister of Agriculture and Rural Development Lê Minh Hoan said that mollusks, including clams and oysters, are the key exported species of Vietnam as the northern coastal provinces have brought in remarkable results from exporting mollusks recently.
China has just added one more kind of oyster and three kinds of clams in its list of imported products. The entry into force of EVFTA has facilitated the exports of mollusks to the EU market.
Deputy Minister Hoan said: "the establishment of a supply chain in seafood products in general and mollusks in particular in big cities will trigger domestic consumption. The new situation did create not only new opportunities but also challenges, thus we need to adopt specific methods to synchronize the adjustment of production development and connection of oyster consuming markets".
According to reports by the Directorate of Fisheries, hotspots of clam culture are Quảng Ninh, Nam Định, Thái Bình, Khánh Hòa, Ninh Thuận, Bến Tre, Tiền Giang. There are now about 380 production facilities. Many broodstock production facilities shifted to produce sea fish after facing difficulties of the covid-19 pandemic and other causes such as environment pollution, fluctuating prices, instability, and devastating weather.
Every year, around 70 billion clam broodstocks are needed. According to insufficient statistics, the country's total output of artificial clam broodstocks is estimated to reach 15-20 billion pcs/year (meeting around one third of the demand for commercial broodstocks), with a vast majority being produced in Nam Định, Thái Bình, Tiền Giang, Bến Tre…). Besides, clam broodstocks are exploited from nature.
Vietnam has exported mollusks to many countries in the world, with the export value reaching $79 million in 2014 and $93.7 million in 2019 and the key exported species was clam. Today, 12 mollusks farming areas have been recognized by the EU, leaving an estimated output of 200,000 – 220,000 tons per year. The EU is the biggest destination of Vietnam's mollusks, accounting for 64.2% of the country's export value. Even though the US is the second biggest market of Vietnam's mollusks, export value to this market only accounts for nearly 12% of the density, followed by Korea, China, Kongkong and ASEAN.
Due to the COVID-19 pandemic, Vietnam only exported mollusks to 40 countries in the first six months of the year (48 countries in 2019). The total export value of mollusks reached $37.2 million, down 5.5% as compared to the same period of 2019. The export volume of mollusks accounted for 8.1% of the total export volume of seafood products.
In Hoan's opinion: "Not only clams and oysters, any products experiencing a spectacular growth will bring in risks. Water environment related aquaculture industries can pollute the ecosystem. The new generation free trade agreements require products not only to be qualified but also leave no negative concerns to the ecosystem".
He also said that we need to change so as to export higher value products, but only export raw clams and oysters. We need to use technologies to process high value products and study to produce drugs or cosmetics from clams and oysters.
In the next few months, the Ministry of Agriculture and Rural Development will build a strategy to develop the clam and oyster sectors. The restructuring of the agriculture industry is to put all agricultural products in the same supply chain which will create many added value and a more sustainable connection between farmers and companies.
VFM