Markets
Pangasius price rises, businesses lack materials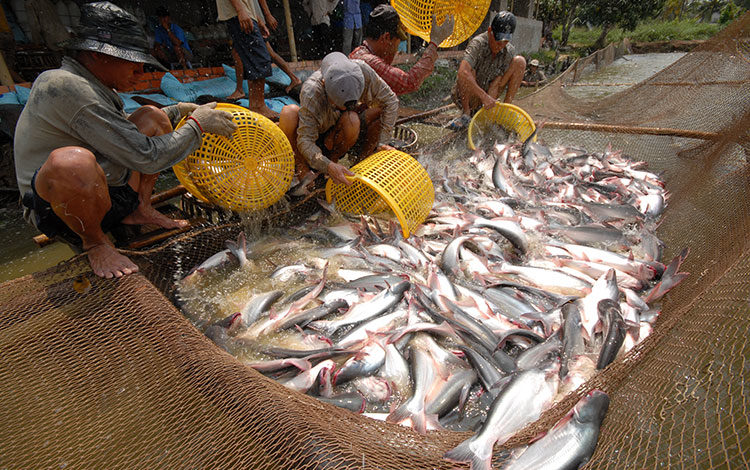 The price of pangasius has been skyrocketing recently, from 28,000 dong/kg to 31,000-32,000 dong/kg. Seafood processing factories can't buy materials.
Businesses lack materials
According to Doãn Tới, CEO of Nam Viet JSC company, the price of pangasius has shot up suddenly for the last few days, from 28,000 dong/kg to 31,000-32,000 dong/kg. Seafood processing factories can not buy materials because farmers keep their fish ponds to wait for the price to rise. The increase in pangasius price is due to China's reopening of the market (from Jan 08, 2023).
Since the recent Convention of promotion of agricultural products and seafood between Vietnam and China, China has increased their purchases of pangasius, leaving a supply behind demand.
Nam Viet JSC received an order of 500 containers (equal to 12,000 tons of fish, 800 grams each) going to the Chinese market. With a 600ha farming area which produces 200,000 tons per year, the company is trying to fulfill the order. Nguyễn Thành Tân, a pangasius farmer in Long Giang commune of Chợ Mới district (An Giang) eagerly said: "The pangasius price has risen rapidly for the whole week, businesses come to the farm and pay a deposit.
The price of pangasius materials has stayed at 28,000 dong/kg, leaving a great loss suffered by farmers as production costs reached as much as 29,000-30,000 dong/kg. As pangasius is now sold at 31,000-32,000 dong/kg, farmers gain some profit". The price is estimated to rise to 33,000 dong/kg by the end of Feb 2023, and maybe 35,000-36,000 dong/kg in April 2023. An Giang is using 1,628 ha of water surface for pangasius farming.
Many farmers emptied the ponds due to the prolonged loss and when China started to purchase fish, supply behind demand happened.
Farmers downsize stocking
The price of pangasius material has stayed high since earlier this year; however, with such a high feed price and an increase in prices of input materials such as fuel, drugs, feed, farmers earn 500-1,500 dong/kg.
In large pangasius farming localities in the Mekong Delta such as An Giang, Đồng Tháp and Cần Thơ city, the farming areas are expanded.
Farmer Lê Văn Tâm, in An Nhơn commune of Châu Thành district (Đồng Tháp), who has been rearing pangasius for nearly 20 years, said that the feed price had never risen continuously like this year. Since earlier 2022, the feed price has gone up to 6,000 dong/kg, not to mention the rising fuel and other costs, making the price of pangasius shoot up. This is the reason why many farming areas are downsizing regardless pangasius is now sold at higher prices than previous years.
Tâm used to stock three tanks of pangasius, 2-3 thousand square meters each. But now he just has three tanks. If farmers stock pangasius during this time, they have to spend at least 30,000 dong/kg on production cost. Thus, pangasius must be sold at more than 30,000 dong/kg or the feed price goes down, farmers will have hope to earn profit.
Having reared pangasius for decades, Nguyễn Ngọc Hải, Director of Thới An pangasius Cooperative, in Ô Môn district of City city confirmed that the price of commercial pangasius was higher than the last two years. And as such, farmers earn profit. However, just 10% of farmers have pangasius sold because most of them emptied their ponds or kept the fish in ponds so long that they became oversize.
VFM