Markets
General overview of seafood market in Sep 2020 and forecast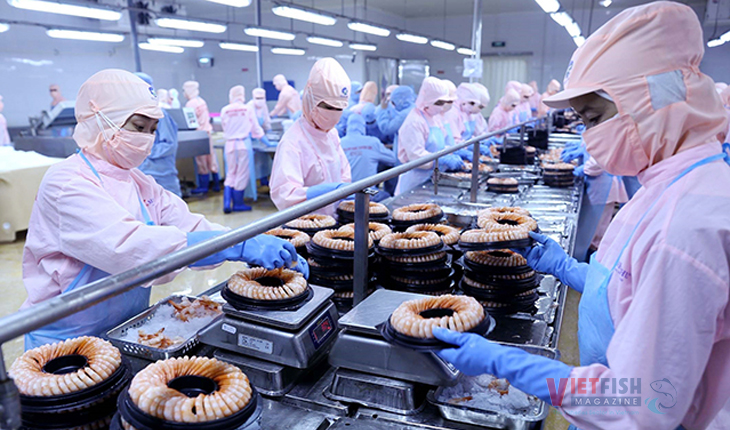 Pangasius
Prices of pangasius material in the Mekong Delta stayed low in Sep 2020, ranging between 17,500 and 18,000 dong/kg (700-800g/pc) due to increase in supply. Meanwhile, exports are stagnant with a large amount of unsold stocks and low selling prices. Besides, the ongoing Covid-19 pandemic still causes bad impact on export activities of domestic pangasius producers and exporters.
Shrimp
After a while of slump, prices of shrimp material in the Mekong Delta have increased back since late Aug 2020. The market is busy as exports are enabled, many companies and enterprises have new orders and enter new contracts, leaving a decreasing amount of unsold stocks.
Prices of white leg shrimp increase by 20,000 dong/kg compared to Aug 2020. In particular, as for industrially farmed white leg shrimps, 22-25 count shrimps are sold at 160,000 dong, 26-30 count shrimps are at 146,000 dong, 35-40 count shrimps are at 126,000 dong, and 55-60 count shrimps are at 100,000 dong. As for black tiger shrimps, 20 count shrimps are sold at 180,000-190,000 dong, and 30 count shrimps are sold at more than 200,000 dong.
SUPPLY-DEMAND
According to the Directorate of Fisheries, the seafood output is estimated to reach 5.4 million tons in the first eight months of 2020, up around 1.5 million tons compared to the same period last year and reaching 62.9% of the year's plan. Exploited species are estimated to reach 2.6 million tons and farmed species are 2.8 million tons.
In 2020, the fisheries industry plans to fulfill the growth target with the total output of 8.6 million tons (exceeding 22.8% from the set target). The aquaculture sector is estimated to bring in 4.7 million tons (exceeding by 4.4%), the exploitation sector will bring in 3.9 million tons (exceeding by 56%), and export volume is expected to reach $10 billion. According to statistics by the General Department of Vietnam Customs, seafood imports of all kinds into Vietnam saw a consecutive increase in the last four months. In August, imports increased by 1.5% compared to the previous months and 8.8% compared to the same period last year, reaching $151.32 million. In the first eight months of 2020, seafood imports reached nearly $1.15 billion, down 3.8% compared to the same period last year. The country's seafood export volume in the first eight months of 2020 reached more than $5.21 billion, down 5.1% as compared to the same period last year. In Aug 2020 alone, this number was $814.71 million, up 2.3% from the previous month and 0.6% from Aug 2019.
According to the Ministry of Industry and Trade, Saudi Arabia allowed 12 Vietnamese businesses to re-export some wild-caught species in this market, leaving a good sign, especially when they are facing a lot of challenges in exports due to the Covid-19 pandemic. In the past, Saudi Arabia halted importing Vietnamese seafood, following a conclusion made by the inspectorate during a visit to Vietnam that some Vietnam's shrimp and pangasius processing facilities failed to meet requirements and standards of food safety and hygiene.
Forecast
Prices of pangasius in the Mekong Delta are forecasted to stay low for a while. Pangasius exports will increase because seafood is necessary to customers and needed in defiance of prolonged pandemic. Actually, the Chinese market has started to recover and made some noticeable sales in pangasius. Exports to the EU will increase with a target of $2.5 billion in 2025 thanks to EVFTA. Exports to ASEAN, Japan and Russia are potential. It is forecasted that Vietnam will enjoy benefits from the increasing global demand of shrimps, especially when its rival power houses such as India, Ecuador, Indonesia and Thailand are suffering from disease outbreaks in shrimps, leaving a slump in output. Besides, the supply-demand chain in many countries has been broken due to the Covid-19 pandemic, resulting in possible opportunities for Vietnam's shrimp sector.
VFM