Markets
Hard to find buyers of Vietnamese pangasius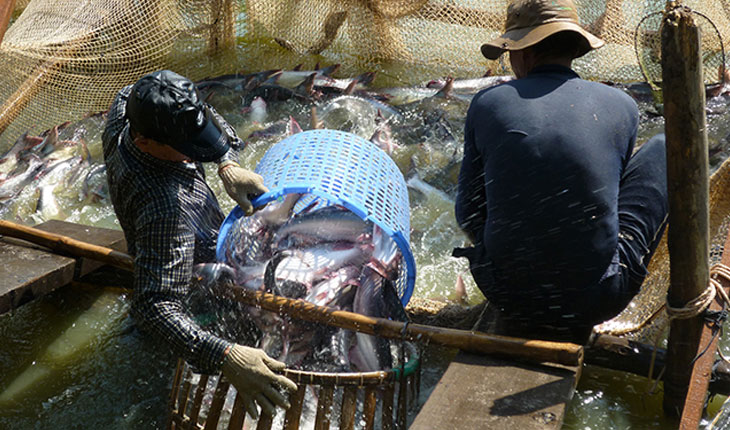 As the result of the continuing overwhelming coronavirus pandemic, Vietnam's pangasius exports have been facing multiple difficulties.
Covid-19 continues to badly impact Vietnam's seafood exports in quarter II, 2020. The country brought in $3.5 billion from seafood exports in the first half of the year, down 10.5% compared to the same period last year. Most seafood products saw a decline in sales, with pangasius found slumped to $612.3 million, commensurately with 29.8% of last year's value. The total value of pangasius exports in the first six months reached $659 million, down 31.5%.
According to Vietnam Pangasius Society, a reduction in exports has resulted in a decrease in new farming area, harvest and output as compared to the same period last year. Besides this, prices of commercial pangasius have been lower than production cost for a long time, leading to a serious loss suffered by farmers, farm shutting down or perfunctory feeding. Many pangasius companies have coped with capital difficulties, bad debt or increasing unsold stocks.
In 2020, the fisheries industry must suffer from a double impact of climate change, summer heat and salt intrusion which caused the lack of freshwater, making farmers fail to remain output and farming duration. Plus, they suffered from consecutive decreases in prices.
Major destinations of Vietnamese pangasius, China, the US and EU are facing difficulties due to the rampant spread of coronavirus. In May and early June, pangasius export value to China – Hongkong suddenly halted and fell as compared to the same period last year following China's order of shutting down some ports amid fear of potential infection from imported seafood. Many supermarkets in the north of China have kept closing. This has impacted export prices for the last few weeks. Exports to ASEAN and the EU were on the decline by 57.6% and 36.2% respectively as compared to the same period last year.
VFM