Markets
Khánh Hòa: Groupers are left to starve due to poor sales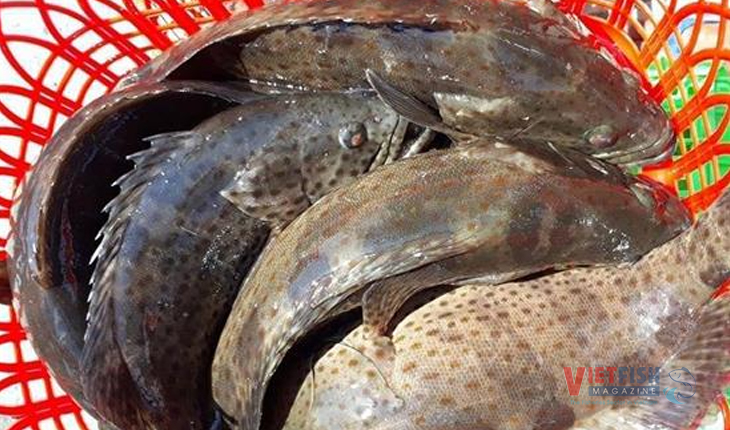 At least hundreds of tons of grouper farmed by farmers in Cam Thịnh Đông commune in Cam Ranh city of Khánh Hoà province are unsold or stagnant due to the coronavirus pandemic.
Trần Đức Văn, a grouper farmer in Hiệp Thanh village of Cam Thịnh Đông commune said that grouper trading has been stagnant recently, with a few amount of groupers being sold, from hundreds of kilogram to one ton, leaving difficulties to local farmers.
According to Văn, once 160,000 – 240,000 dong/kg before the Covid-19 pandemic, prices of grouper declined to 90,000 – 119,000 dong/kg (depending on sizes), making farmers suffer from 30,000 – 40,000 dong/kg loss.
"Low prices and poor sales have resulted in around 60 tons of grouper being unsold. We had to reduce the amount of feed so as to reduce production cost. Once being fed every two days, they are now left to starve in 4 or 5 days, even one week". He has 10 grow-out ponds of grouper, 700 million dong production cost each.
Farmer Hồ Văn Hiệp, also in Hiệp Thanh village, has 100 tons of unsold grouper, two third of which are hybrid groupers which have been reared for over one year, averaging 1-2kg each.
He complained: "Prices of grouper have been falling due to the Covid-19 pandemic, even down to 100,000 dong/kg at one point. In July, prices of grouper increased by 125,000 dong/kg but immediately dropped to 117,000 – 119,000 dong/kg (type 1). However, they were unsold and farmers had to reduce the feed amount and leave the fish to starve within 4-5 days".
Lê Hữu Ngạn, Chairman of Farmers Society in Cam Thịnh Đông commune confirmed: "There are now over 100ha of groupers in this commune, mainly hybrid ones, with at least 300 tons of unsold groupers. Just a few traders came to purchase". He wished authorities to help local farmers with consumption.
A grouper trader said that a vast majority of hybrid grouper was sold in the domestic market to restaurants and hotels. However due to the coronavirus outbreak since earlier this year, traveling, hotels and restaurants were restricted, resulting in a poor sale of this species.
VFM