Markets
Mekong Delta: Prices of black tiger shrimps fluctuate wildly, inventory increases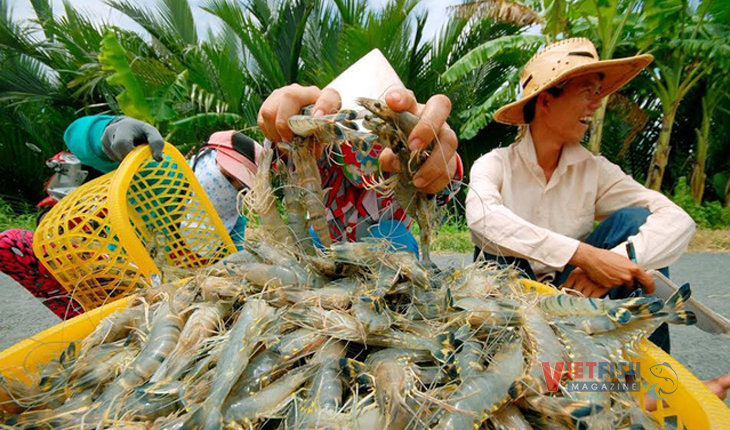 Prices of shrimp material, especially black tiger shrimp, have been fluctuating wildly recently, resulting in hundreds of thousands of shrimp households in the Mekong Delta facing challenges.
Right after harvesting the black tiger shrimp crop at the end of lunar February, farmer Phạm Thị Loan in An Trạch A commune, Đông Hải district, Bạc Liêu province saw a loss of nearly 800,000 dong compared to the crop in the middle of the month. "Once earning 4.5 million dong from 28kg of black tiger shrimp, now I just make 3.8 million dong from 30kg of shrimp size 30-40 pcs/kg", said Loan.
Shrimp farmers in coastal provinces like Kiên Giang, Cà Mau, Bạc Liêu, Sóc Trăng have never experienced such a huge drop before, with the sharpest fall recorded in black tiger shrimp. Prices decreased drastically 70,000 dong/kg (3,04 USD/kg) just within more than one week and fell 100,000-140,000 dong/kg as compared to the same period last year (depend on sizes).
According to statistics, prices of black tiger shrimp size 20 pcs/kg in the third week of Mar. 2020 ranged at 170,000-200,000 dong/kg (down 60,000 dong/kg from last week), size 30 pcs/kg stayed at 130,000-170,000 dong/kg (down 70,000 dong/kg), size 40 pcs/kg was 90,000-130,000 dong/kg (down 40,000 dong/kg).
The price of white leg shrimp alone decreased slightly with shrimps size 100 pcs/kg harvested from pond liner ranging at 72,000-78,000 dong (down 20,000 dong/kg) and those from on-land pond falling to 65,000-75,000 dong/kg (down 16,000 dong/kg). Such price has resulted in many empty ponds.
According to the Cà Mau provincial Agriculture and Rural Development Department, the covid-19 pandemic has seriously affected the purchasing, processing, and exporting of shrimp. Some companies and traders have stopped or reduced their purchases, making shrimp prices fall suddenly. Farmers started selling their shrimps from early harvest at very low price amid fears of not selling them in the future and unaware of shrimp prices in the market.
VFM