Markets
Pangasius exports from Vietnam could be increasingly scarce until the second quarter of 2022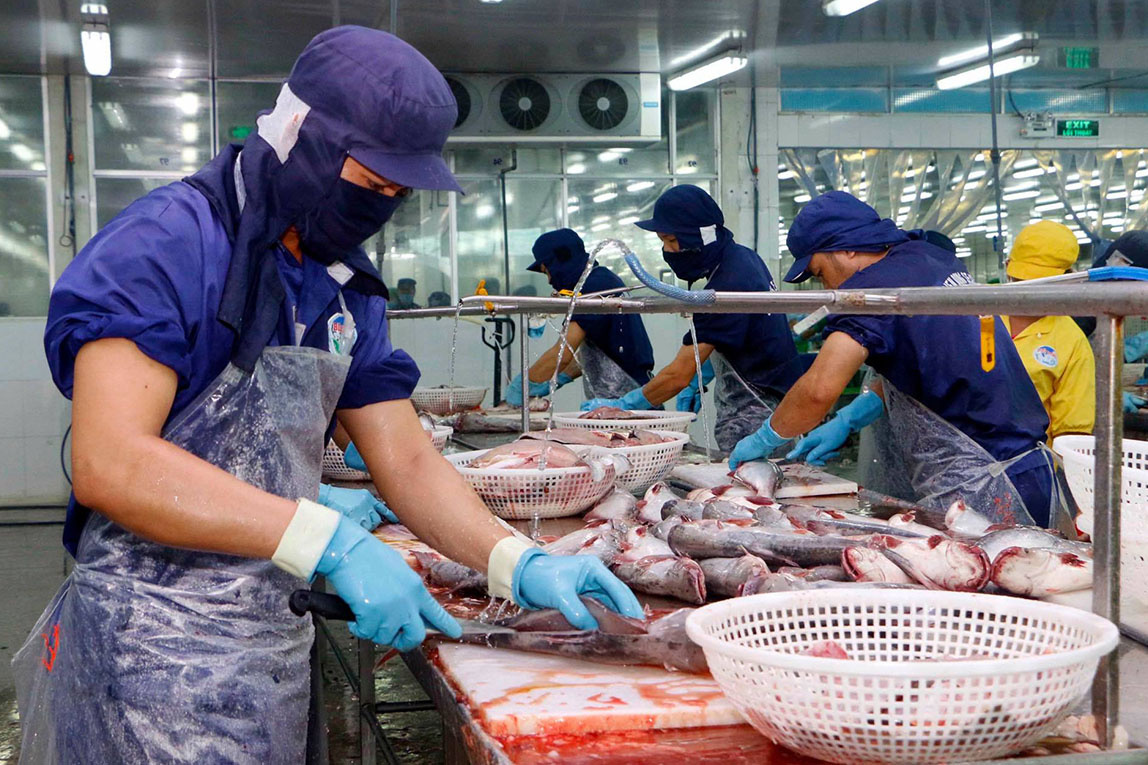 According to Undercurrent News sources, pangasius exports decreased dramatically in August and September due to social distance in the Mekong Delta provinces (Mekong Delta), affecting company sales. This suggests that Vietnam may be unable to export pangasius until the second quarter of 2022.
Vietnam's pangasius business has been challenging, greatly exacerbated by a scarcity of raw materials weighing 0.8 – 1 kg, which is the size required for filleting and shipping to the US and EU markets.
Previously, pangasius farmers were required to keep fish in ponds and feed them to keep the weight and size of the fish at an adequate level.
Recently, the price of pangasius size 0.8 – 1 kg has risen substantially as several processors began to purchase for freezing and processing for year-end orders.
According to the expert, the 0.8-1 kg fish size may be short in the short term since Vietnam has passed the major stocking season, and even if hastened, it will not be achievable because pangasius is sluggish to develop.
According to Le Thi Thuy Trang, Sales Director of Siam Canadian Group in Vietnam, this fish size is quite small and would be scarce in 2022.
Because the Mekong Delta provinces adopted social distancing in the last three months, transportation was difficult, and farmers were unable to harvest and transport fish to factories. As a result, they must continue to raise fish while waiting for the manufacturer to come, but by this time, the majority of the fish in the ponds were too old.
Ms. Trang stated that Vietnam's Lunar New Year is on 1/2/2022, and that tiny fish currently in ponds require at least 4-5 months to achieve standard size.
As a result, the scarcity of standard-sized pangasius will drive up raw material prices, at least until the second quarter of 2022.
Analysts, on the other hand, predict that pangasius prices are unlikely to rise as predicted. Because companies are short on raw materials, export orders will be lower than in previous years. As a result, only the US market has the potential to raise pangasius export prices.
"According to our observations, agricultural prices for pangasius are rising. They can, however, decline drastically if the pangasius is enlarged. The export price of pangasius is now low. As a result, the farm's selling price is low and unlikely to rise more.", the analysis stated.
The pangasius business has been negatively impacted by the prevention and management of Vietnam's COVID-19 outbreak. In particular, implementation of social distance in pangasius farming regions such as Tiền Giang and Cần Thơ remains contentious in comparison to other places.
"In reality, seafood processing plants are running at near-capacity. Even if the plant reopens, pangasius prices have not risen. Pangasius prices have improved somewhat in July. However, because there was no time to rejoice, he was in a hurry to worry, and the price of raw materials reversed because they were too difficult to acquire and transport.", according to the expert.
Pangasius shipments to China, in particular, fell dramatically as the government tightened quarantine restrictions for SAR-CoV-2 with frozen fish items.
However, the price of pangasius sent to China is not too low, and despite the fact that sales are more difficult than in the past, some importers continue to submit orders and deposit money to assure their commitment.
On the contrary, the price of pangasius sent to the US is more favorable as a result of the unexpected increase in consumption demand following the reopening of the economy.
The price of pangasius shipped to the United States reached 3.55 USD/kg in August, which was more than the average price in 2019 and near to the highest price in 2018.
However, Mr. Bob Noster, sales director of Seattle shrimp and seafood import firm (USA), told Undercurrent News that his company will not modify its prices since the processing companies will not adjust their prices. The company was extremely concerned about signed orders when they were manufactured and shipped due to the Vietnam shutdown.
Meanwhile, raw materials in Vietnam are in limited supply since most of the pangasius in the ponds are overgrown and in cold storage, according to the proprietors of those sources in Vietnam. The company's operations do not allow for the freezing of standard-sized pangasius.
"Meanwhile, shipping is increasing, but vessel size is constrained. We can scarcely anticipate a drop in logistics rates in the remaining months of 2021", Mr. Noster said.
Currently, US stockpiles are depleting, and speculators are selling in little quantities, driving up prices. Inventory levels are not likely to persist long due to the unexpected surge in consumer demand. In the United States, the price of pangasius products ranges from 2.85 to 3.10 USD/lb.
In another aspect, Vietnam's pangasius exports to the EU market remain mostly unremarkable. Pangasius prices are falling, not because of the COVID-19 pandemic, but because the frozen food industry has become saturated during the era of social distance.
Currently, seafood processing plants operate in a three-on-site manner, in which firms cover the costs of meals, lodging, and employee benefits. As a result, the offering price of pangasius is somewhat higher to compensate for business difficulties.