Markets
Pangasius exports will see a considerable increase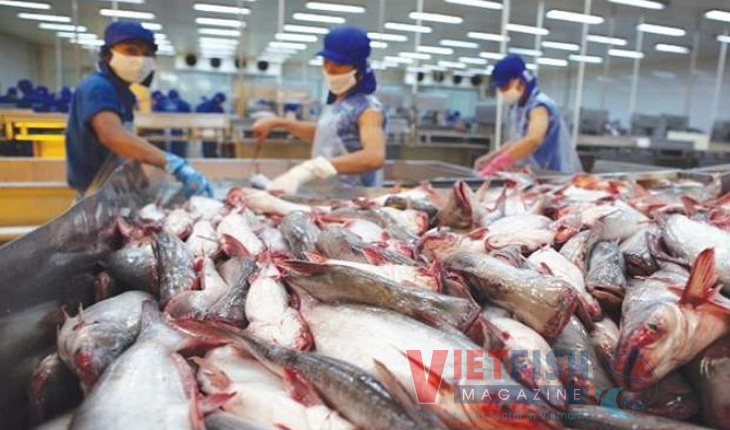 It is forecasted by many companies relating to Vietnamese pangasius process and exports. According to an analysis, the crisis caused by the covid-19 pandemic will restrict trades and sweep stockpiles in markets. When the situation is controlled and markets go back to normal, demand will be expected to rapidly increase.
Stagnant business and price drop
The South VINA Co., Ltd (South VINA Company) in Cần Thơ city specializes in rearing, processing and exporting pangasius. Its products include frozen fillet, cut pangasius pieces, whole fish and butterfly cut pangasius. Its buyers are countries from the Americans to Europe, Asia and China. The company exports mainly whole fish and butterfly cut pangasius to the Chinese market.
Director Trần Văn Quang said that the covid-19 pandemic has posed serious challenges to China's business and prevented South VINA from exporting its whole fish and butterfly cut pangasius to this market. However, diversified products have alleviated the company's difficulties due to decreased sales in China. When China announced to re-open the border gate after effective fight against the covid-19 pandemic, pangasius exports are inching up.
"We are making a gradual recovery in pangasius export volume but price still decreases by 10% compared to the end of 2019. We are hoping that when the market comes back to normal and stockpiles are cleaned out, demand in pangasius and price will increase", said Quang.
Upward trend of stockpiles
Director of the Bien Dong Seafood Company Limited (Bien Dong Seafood) Ngô Quang Trường emphasized that inventory was running out and the upward trend of stockpiles due to the covid-19 pandemic is inevitable. In Trường's opinion, sales in the US market started facing difficulties three months ago when the US government imposed high tax on China's products and multiple exporters changed from China to the US, resulting in supply surpassing demand. When the covid-19 outbreak occurred in China, supply in the US became even higher and Bien Dong Seafood's order decreased by 20% from 2019. As the US market is coming back to normal now, the company achieved 100% of its plan with an order of 200 containers, 20 tons each, being placed a month. "Our inventory was full last month but is running out now. As many as 7,000 workers are working in Bien Dong Seafood's factories. We forecast that seafood demand will highly increase in the next time because China is going to reopen its border gate and the world's demand will grow in order to not only compensate for the short supply from China but also stockpile in the covid-19 pandemic fears. Some of our customers shared that they are in need of 1kg per day but will buy 30kg for stockpile", said Trường.
Need to be well-prepared for supply source
General Director of Vĩnh Hoàn JSC Nguyễn Ngô Vi Tâm has the same thought when saying "orders of pangasius may spike". She thinks that frozen fillet pangasius, which is necessary food in multiple markets, will be in high demand before and after the covid-19 pandemic. Drop in sales has been recorded in China but may increase sharply in quarter II and III this year. Many European customers of Vĩnh Hoàn also think that orders in pangasius may spike when production of white meat pangasius such as cod, pollock, and haddock is getting stuck in China, she adds. "Not only are our factories in normal operation but we also prepare for materials for production in quarter II and III to satisfy possibly growing demand of customers and prevent pangasius prices from increasing suddenly due to massive orders, especially pangasius materials might be in short supply in the last quarters of the year", said Tâm.
VFM