Markets
Production and business problems during the midst of the pandemic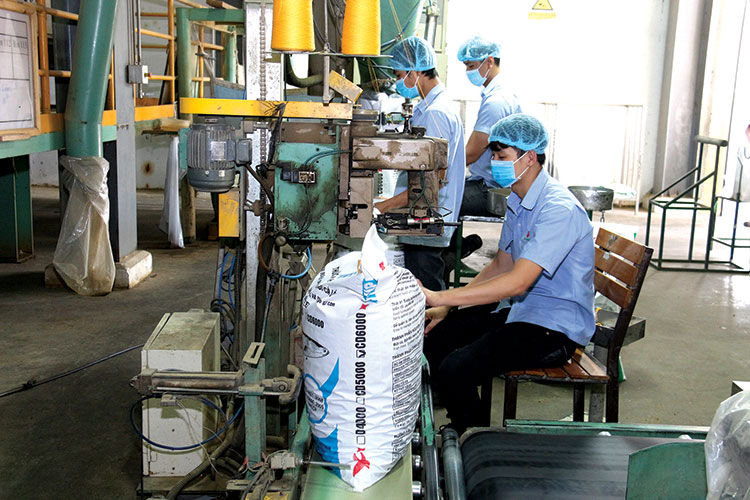 At the end of August 2021, the situation of seafood production and business was still beset by many difficulties, news about supply-demand bottlenecks caused many factories to suspend operations and problems solving efforts are heating up day by day.
Paused and prosecuted
On August 22, 2021, Working Group 970 of the Ministry of Agriculture and Rural Development said that in the southern provinces, social distancing is being implemented; There were 123 seafood processing factories that had to suspend production. In which, 19 factories discovered that workers were infected and forced to blockade to prevent the spread; and 104 factories could not maintain production of "3 on-site" because it was expensive, beyond the ability of enterprises to pay.
According to Working Group 970, in the southern provinces, only 326/449 (accounting for 65%) of processing facilities can maintain production. But in these factories, workers are divided to make the average capacity only about 30-40% compared to before the epidemic.
In Cần Thơ City, according to a report by the Department of Industry and Trade, as of August 16, 2021, out of the total number of businesses monitored by the city is 1,090 with 69,893 employees, 94.68% of businesses with 93,35% of employees have been suspended. In industrial parks and export processing zones, there are 170 enterprises with 40,526 employees, stopping 88.24% of enterprises with 94.32% of employees. Outside the industrial park, there are 920 enterprises with 29,367 employees, stopping 95.5% of enterprises with 92.06% of employees.
In Cà Mau province, on August 21, 2021, the Cà Mau City Police decided to prosecute a criminal case "spreading dangerous infectious diseases to people" that occurred at Thanh Tam Seafood Company led by Mr. Nguyen Chi Tam as Director. Initial investigation, Thanh Tam Seafood Company stopped working from July 29, 2021 to August 15, 2021, but on August 16, 2021, it imported shrimp for processing. On August 21, 2021, a female worker infected with COVID-19 was tested for 86 F1 and 213 F2. The company was prosecuted for doing business without the permission of the competent authority.
On August 22, 2021, the Chairman of Ca Mau Provincial People's Committee issued an urgent document directing the inspection of all seafood processing facilities in the province. Accordingly, the general inspection of the operation situation; the construction, appraisal; approve the plan for epidemic prevention and control and resolutely not allow the operation of businesses that have not tightened the epidemic prevention and control measures.
Congestion and efforts to remove it
Bạc Liêuac Lieu province is building a high-tech shrimp center of the Mekong Delta. Director of the Department of Agriculture and Rural Development Luu Hoang Ly said that this year shrimp output is expected to reach 50,106 tons and bring to the market 45,000 tons. Currently, processing factories in the province are still purchasing, but their capacity has been reduced and some units are still temporarily closed, so the quantity purchased is low, causing the price to decrease by 15-20%.
In Bến Tre province, seafood caught from the sea is also backlogged in the basement of a large ship. Bình Đại fishing port is the largest fishing port in Bến Tre province, on average, a day offshore fishing vessels bring in 300-350 tons of seafood, but the port can only handle 60-70 tons. "In recent days, it is higher, with nearly 30 ships returning with an output of about 600 tons, the backlog of seafood in the basement is even bigger," said Vice Chairman of Bình Đại District People's Committee Vo Van Quan.
The reception capacity of Bình Đại Fishing Port has decreased because of social distancing, only 8 ships can be docked and unloaded a day. The loading and unloading of seafood from the ship to the port is very slow due to the lack of labor, done "3 on-spot", so workers have to take a lot of time off. In the face of the situation that about 80% of the caught seafood is stagnant in the long basement, last week Bình Đại district organized a support team with over 90 militiamen from "green zone" communes to unload the sea. backlog products. In the long term, the district proposes to the province to allow workers to stay in motels near the port, together with the port to form a "3 spot" area to solve the problem of labor shortage. Vice Chairman of the Provincial People's Committee Nguyen Minh Canh said that the province basically agreed, but the district must have a specific plan to organize accommodation for workers and the schedule from the inn to the port to ensure "3 places" in accordance with regulations.
Đồng Tháp province has the largest pangasius and frog farming area in the Mekong Delta, focusing on connecting many e-commerce channels for consumption. Deputy Director of the Department of Industry and Trade Vo Phuong Thuy said that on August 19 and 20, only 300 tons of pangasius and frogs were sold. Dong Thap specialty cooperative is in discussion with Hanoi Department of Industry and Trade to connect frog consumption to Hanoi and the northern provinces. Besides connecting to Tiki's e-commerce platform, it is expected to coordinate and organize Đồng Tháp Agricultural Products Week.
Working group 970 of the Ministry of Agriculture and Rural Development is still active, connecting the consumption of agricultural products to the southern provinces, up to now, there have been 1,250 registered focal points providing agricultural products and food. Products include aquatic products, seafood; vegetables of all kinds; fruits of all kinds; eggs and meat; Food; processed agricultural products and other essential foods.
In particular, the 970 Working Group piloting the program of safety bags combining 5 types of agricultural products with a total weight of 10 kg/bag (combo 10 kg/bag) is opening up many expectations.
The combo program has promoted the construction of a network of warehouses and supply lines for Ho Chi Minh City alone each day from 80,000 – 100,000 bags (equivalent to 800 – 1,000 tons). Meanwhile, the Mekong Delta has registered the ability to supply nearly 5,000 tons of goods of all kinds a day. Connection provided through many applications of Zalo, Facebook, email.