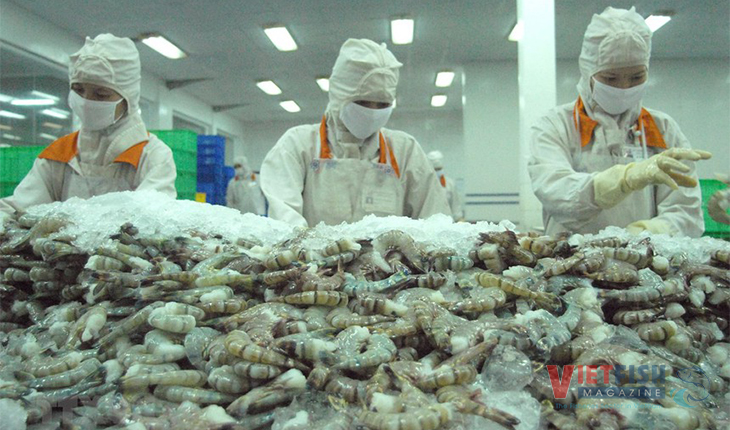 Businesses in the Mekong Delta have ramped up processing high value seafood products for exports. Seafood exports are thriving, giving opportunities for businesses to speed up in the last months of the year.
Signs of thriving
According to the updated statistics by Cà Mau provincial department of Industry and Trade, the export volume of Vietnamese shrimps reached nearly $133 million in Oct 2020, making the accumulated value of the first ten months of the year reach over $783 million, up 6% from the same period last year. Exports to the EU increased by 33% while sales to Canada and Japan increased by 24% and 13% respectively. Some businesses entered new sales contracts with European partners to ramp up exporting shrimps in the last months of the year.
Bạc Liêu brought in more than $600 million by the end of October 2020 from exporting shrimps, accounting for 75% of the year's plan and up 5% from the sale period last year. Bạc Liêu is ramping up selling shrimps to fulfill the plan. However, local businesses are facing the difficulty of short supply of shrimp material, shattering their dream of selling a large quantity of shrimps. Huỳnh Thanh Tâm, Director of Cà Mau Seafood a Processing and Service JSC said: "Businesses are competing against each other buying shrimp materials, resulting in an increase in prices. Many households in the Mekong Delta have started to stock shrimps, thus we have to wait until earlier next year when shrimps are harvested".
As for pangasius, after a long time of prices falling down under 17,000 – 19,000 dong/kg, prices are bouncing back. Nguyễn Thanh Bình, Director of Châu Thành Seafood production and service Cooperative in Đồng Tháp, said: "Factories are buying pangasius at 23,000 dong/kg for exports. We have just sold 400 tons of pangasius, earning 1,000 dong/kg after cost. As prices increase, payment is made right after delivery".
Mount effort to reach goal
According to statistics in Sep 2020, pangasius export volume of pangasius reached $1 billion, down 28.6% compared to the same period last year. In September alone, pangasius exports reached $129 million, down 17.6% from the same period last year, narrowing the gap among decreasing numbers.
Chairman of the Board of Nam Việt Cooperation in An Giang said: "My company exports 320-350 containers of pangasius of all types, 25 tons each, per month. Orders increase upon growing demand of customers worldwide. Nam Việt is mounting an effort to reach its goal with an export volume of $110-120 million in 2020".
Trương Thị Lệ Khanh, Chairman of Vĩnh Hoàn Cooperation in Đồng Tháp, said that her company is ramping up the processing of various types of high quality pangasius to serve the domestic market.
Nguyễn Việt Trung, Head of the Trade Management Office of Cà Mau provincial department of Industry and Trade said that the province brought in $61 million in the first nine months of 2020, up more than 400% as compared to the same period last year. The Mekong Delta provinces will focus on supporting businesses to diversify products and making more value-added products, and helping exporting companies to follow and implement effectively free trade agreements that Vietnam has entered. Besides this, they will help local farmers with farming techniques, improvement of shrimp cultivation method, production cost reduction and competitiveness enhancement.
Vietnam brought in about $6.87 billion from exporting seafood in the first ten months of 2020, down 2.74% in value as compared to the same period last year. An increase in exports in the last months of the year triggered a forecast of $8.4 billion worth of seafood exports in 2020. In spite of being lower than 2019 (%8.6 billion), it is a great effort in the face of difficulties.
VFM